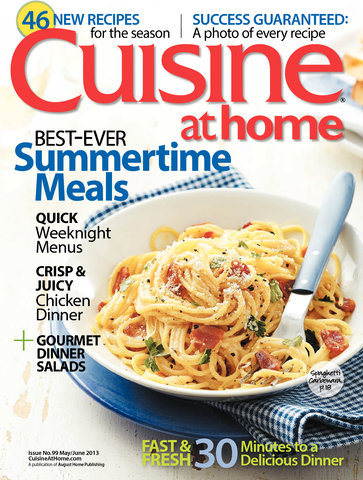 Subscribe Today!
Preview This Issue
Issue 99


June 2013
Table of Contents
Departments
4 FROM OUR READERS
6 Q&A
8 ALMOND-CRUSTED FISH WITH HARICOTS VERTS
14 SPANAKOPITA TRIANGLES
After just one bite of these flaky spinach pastries, you won't have to be told twice to eat your vegetables.
16 CHICKEN-VEGETABLE SOUP
20 HAM & BRIE SANDWICH
24 CHEESE CRISPS
48 4 STEAK TOPPERS
Dress up a steak with one of these pleasing crowns sure to add pizazz to your meal.
50 BANANA PUDDING
Classic and casual, banana pudding is just the dessert for your next cookout or get-together.
Feature
28 JERK CHICKEN DINNER
Spice things up with a fantastic meal celebrating all the flavors Jamaican food has to offer.
32 MOTHER'S DAY BRUNCH
Treat Mom to a brunch she'll never forget with fancy fare that can be made ahead.
36 THE ART OF COFFEE CAKE
Make a "coffee date" with any of these sweet cakes for an experience richer than even the best brew.
40 SLOW-COOKER SUPPERS
Bring the best of barbecue season indoors with two slow-cooked takes on relaxed outdoor classics.
44 ASIAN-STYLE DINNER SALADS
Full of cool, crisp vegetables, refreshing herbs, and sizzling meats, these Asian salads are the real deal.