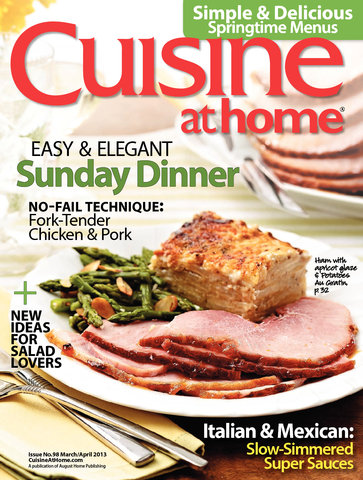 Subscribe Today!
Preview This Issue
Issue 98


April 2013
Table of Contents
Departments
4 FROM OUR READERS
6 Q&A
8 GRILLED LAMB CHOPS WITH MEDITERRANEAN COUSCOUS
14 STRAWBERRY-FRANGIPANE TART
Turn a tasty tart into a show-stopper with a topping of plump, ripe strawberries.
16 BACON-TOMATO JAM
20 PETITE PIZZAS
Have your very own pizza party with perfectly petite pizzas — from traditional to artisan — just for two.
24 ASIAN MILLET
42 GERMAN PORK CUTLETS WITH DILLED KLUSKI NOODLES
46 CHICKEN SALAD WITH APRICOTS & ALMONDS
50 PINEAPPLE UPSIDE-DOWN CARROT CAKE
Whether you favor pineapple upside-down cake or carrot cake, you'll agree this is the ultimate combo!
Feature
28 SLOW-SIMMERED SAUCES
For the fullest flavor, sauces simply can't be rushed. Each of these classics has a big payoff at dinnertime.
32 FAMILY DINNER
This impressive menu of glazed ham and satisfying sides is ideal for Easter or any family feast.
36 QUICK, CREAMY DRESSINGS
No bottled salad dressing compares to these unique concoctions -- done in just a matter of minutes!
38 CRAZY FOR CRAB
Simplify and elevate your culinary life when you crack open a can of crab for dinner tonight.