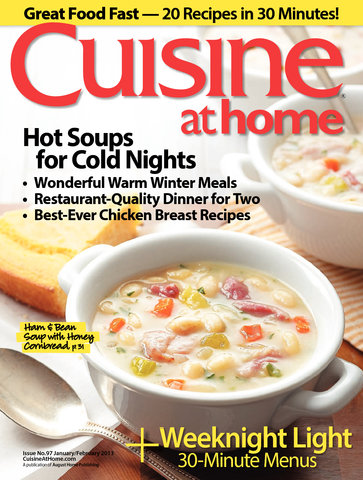 Subscribe Today!
Preview This Issue
Issue 97


February 2013
Table of Contents
Departments
4 FROM OUR READERS
6 QUESTIONS & ANSWERS
8 PIZZA PASTA BAKE WITH SALAD ITALIANO
14 ASIAN CABBAGE ROLLS
Stuffed with an array of Asian ingredients, these napa cabbage rolls are loaded with flavor.
16 GERMAN CHOCOLATE CAKE
20 STRIP STEAK WITH PINK PEPPERCORNS & THYME
24 FISH IN CRAZY WATER
42 PRESSURE COOKING
Make weekend favorites weeknight possible with today's updated pressure cookers.
46 ROMAN-STYLE CHICKEN WITH CAPERS & PARSLEY
50 VANILLA PAVLOVAS WITH SPICED PINEAPPLE SAUCE
Melt-in-your-mouth sweet and light as air, this meringue dessert is sweet on your waistline, too.
Feature
28 SLOW-COOKER BEAN SOUPS
Easily turn the humble bean into a warm and hearty soup or stew with a little prep and your slow cooker.
34 PARTY FARE FAVORITES
All your party food favorites are here — with a twist that makes them more delicious than ever.
38 WEEKNIGHT LIGHT
Pass up the drive-thru but not the fast food with two quick menus that are healthful and satisfying.