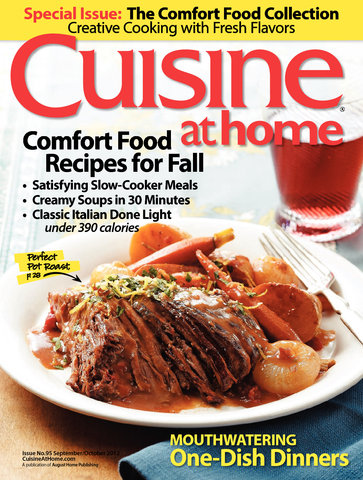 Subscribe Today!
Preview This Issue
Issue 95


October 2012
Online Extras
Recipes
Bacon-Tart Cherry Sticky Buns
Makes: 12 servings
Total Time: 1 hour + rising and baking
FOR THE CARAMEL, BOIL:
FOR THE DOUGH, HEAT:
SOAK:
ADD:
FOR THE FILLING, COOK:
Coat a 9×13-inch baking pan with butter.
For the caramel, boil ¾ cup brown sugar, cream, corn syrup, and ½ tsp. salt in a saucepan over medium-low heat, 2 minutes. Pour caramel into prepared pan, then sprinkle almonds over caramel.
For the dough, heat milk, shortening, and ¼ cup brown sugar in a small saucepan over medium-low until shortening is melted; transfer to the bowl of a stand mixer. Let mixture cool to 100–110°, then whisk in yeast and proof until foamy, about 5 minutes.
Soak oats in hot water until all water is absorbed.
Add 2 cups flour and eggs to the yeast mixture and mix on low with the paddle attachment until combined. Switch to the dough hook and add remaining 2 cups flour, oats, and 1½ tsp. salt. Mix on low speed until incorporated, then increase speed to medium and mix until dough pulls away from the side of the bowl, about 7 minutes.
Transfer dough to a bowl coated with nonstick spray, cover with plastic wrap, and let rise in a warm place until dough doubles in size, about 2 hours. Lift edges of dough away from the bowl and press air bubbles out with your hands.
For the filling, cook bacon in a large sauté pan over medium heat until crisp; transfer to a paper-towel-lined plate to cool, then finely chop. Reserve drippings.
Combine 6 Tbsp. reserved drippings, 6 Tbsp. butter, 1 cup brown sugar, cinnamon, and 1 tsp. salt.
Transfer dough to a floured surface and gently press to remove air bubbles. Divide dough into two pieces and roll one piece into a 10×16-inch rectangle.
Spread half the filling over dough, leaving a ½-inch border, then sprinkle half the bacon and cherries over top. Starting at the short end, roll dough, jelly roll-style, into a log. Repeat filling and rolling with second dough half. Freeze logs 10 minutes to firm.
Slice each log into six rolls and arrange on top of caramel. Cover rolls with a towel and let rise until puffy, about 1 hour; remove towel.
Preheat oven to 375°.
Bake rolls until browned, 30–35 minutes. Cool rolls in the pan for 5 minutes, then turn out onto a serving platter.
Nutrition Info:
Per Per serving: 723 cal; 38g total fat (13g sat); 81mg chol; 933mg sodium; 82g carb; 6g fiber; 13g protein
Table of Contents
Departments
4 FROM OUR READERS
6 Q&A
8 CHICKEN & NOODLES WITH CHIVE BUTTERMILK SCONES
14 CHEESY CAULIFLOWER CASSEROLE WITH BACON BREAD CRUMBS
Warm your soul with this rich and cheesy casserole that places cauliflower center stage.
16 SPAGHETTI & MEATBALLS
20 HAM, CHEESE & BROCCOLI BAKED POTATO
24 SESAME BEEF & BROCCOLINI
36 CHICKEN POT PIE CASSEROLE WITH GRAPE & ORANGE SALAD
42 OVEN-FRIED CHICKEN
46 AUTUMN PUMPKIN SOUP WITH FRIED SAGE LEAVES
50 APPLE CRISP
Fall's favorite fruit gets all dolled up in this extra-special take on a classic apple dessert.
Feature
28 SLOW-COOKER BEEF CLASSICS
Low and slow is the way to go for spoon-tender comfort food like pot roast and beef stew.
32 CINNAMON ROLLS
Make friends and family swoon with cinnamon rolls that are sure to become a favorite.