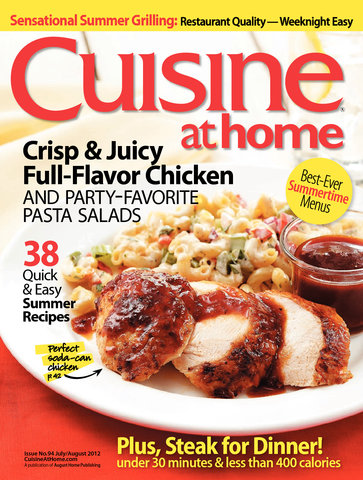 Subscribe Today!
Preview This Issue
Issue 94


August 2012
Table of Contents
Departments
4 FROM OUR READERS
6 Q&A
8 CHICKEN LETTUCE WRAPS WITH CUCUMBER-MELON SALAD
14 QUICK PICKLES
Preserve your produce by pickling it. With this quick technique you'll have pickles in an hour.
16 PAN-ROASTED BEEF TENDERLOIN WITH RASPBERRY SAUCE AND ROASTED FINGERLING POTATOES
20 SANGRÍA SORBET
24 GRILLED RATATOUILLE WITH CREAMY GOAT CHEESE ORZO
42 SODA CAN CHICKEN
Learn this simple, can-do technique of how to grill a whole chicken for the absolute juiciest bird.
46 SICILIAN PESTO
50 NECTARINE TORTE
You're sure to become sweet on this rustic nectarine torte bursting with the flavors of late summer.
Feature
28 GOURMET BURGERS
Tired of the same old boring burgers? One of these five top-notch burgers is sure to inspire you!
34 FILL & GRILL CALZONES
You're just steps away from the best calzones -- the secret is in your own backyard.