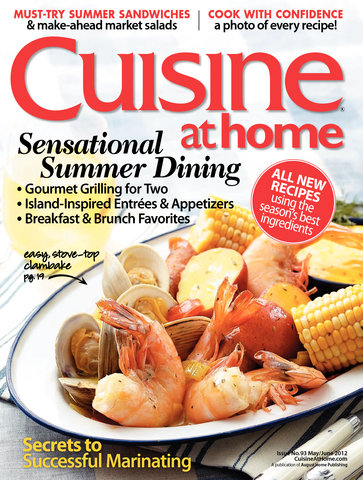 Subscribe Today!
Preview This Issue
Issue 93


June 2012
Table of Contents
Departments
4 FROM OUR READERS
6 Q&A
8 FENNEL ORECCHIETTE WITH SEARED SCALLOPS AND CHICKPEA & ARUGULA SALAD
14 CORIANDER & GINGER-CRUSTED TUNA AND LOMI TOMATOES
18 BOUILLABAISSE CLAMBAKE
22 BLACKBERRIES
Blackberries signify summer is nearly here. Start picking and turn them into a cookie-crusted cobbler.
24 GRILLED VEAL T-BONES AND HOME-FRIED BEETS & RED POTATOES
32 CILANTRO-LIME MARINATED STEAKS AND MEXICAN POTATO SALAD
38 PROSCIUTTO-FONTINA PANINI WITH HONEY DIJON
50 DAIQUIRI CUPCAKES
Kick off summer with a cocktail and dessert in one with these lime, rum, and blackberry-filled cupcakes.
Feature
28 CUBAN SMALL PLATES
Turn up the beat (and the heat) and get the party started with these Latin-flavored small bites.
42 MARKET FRESH SALADS
Everyone will belly up to the bar -- the salad bar that is -- when you serve these satisfying full meals.
46 SWEDISH PANCAKES
Learn the secrets of these Swedish minis, then serve them in endless sweet and savory ways.