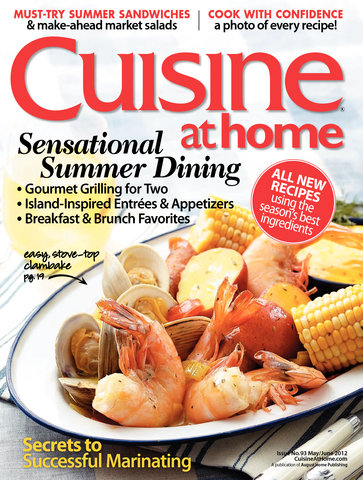 June 2012
Issue 93
Subscribe Today!
Preview This Issue
Subscription Options
Table of Contents
Fennel Orecchiette with seared scallops and Chickpea & Arugula Salad
8
Fettuccine Nest with fresh marinara and Strawberry & Watercress Salad
10
Zucchini & Yellow Squash Spaghetti and Tomato & Basil Crostini
12
Coriander & Ginger-Crusted Tuna and Lomi Tomatoes
14
Macadamia Nut-Crusted Mahi Mahi and Papaya Salad
16
Orange-Saffron Aioli with toasted baguette
21
Orange-White Wine Spritzer
21
Blackberries signify summer is nearly here. Start picking and turn them into a cookie-crusted cobbler.
Grilled Veal T-bones and Home-Fried Beets & Red Potatoes
24
Stuffed Pork Rib Chops and Pecorino Risotto
26
Turn up the beat (and the heat) and get the party started with these Latin-flavored small bites.
Cuban Nachos with mango-mojo salsa
28
Cuban Glazed Shrimp with citrus-rum sauce
30
Mini Cubanos with mango-mustard sauce
31
Cilantro-Lime Marinated Steaks and Mexican Potato Salad
32
Soy-Marinated Chinese Pork Tenderloin and Garlicky Green Beans
34
Yogurt-Marinated Tandoori Chicken Thighs and Spinach & Raisin Rice
36
Prosciutto-Fontina Panini with honey Dijon
38
Bacon, Lettuce & Fried Tomatoes with basil mayo
40
Ploughman's Roast Beef Sandwich with horseradish sour cream
41
Everyone will belly up to the bar -- the salad bar that is -- when you serve these satisfying full meals.
All-American Steak & Potato Salad with Barbecue Vinaigrette
42
Thai Shrimp Salad with Sriracha Vinaigrette
44
Vegetarian Gyro Salad with Red Wine Vinaigrette
45
Learn the secrets of these Swedish minis, then serve them in endless sweet and savory ways.
Classic Swedish Pancakes
46
Swedish Salmon Pancakes
48
Pigs in Swedish Blankets with apple-mustard sauce
49
Kick off summer with a cocktail and dessert in one with these lime, rum, and blackberry-filled cupcakes.