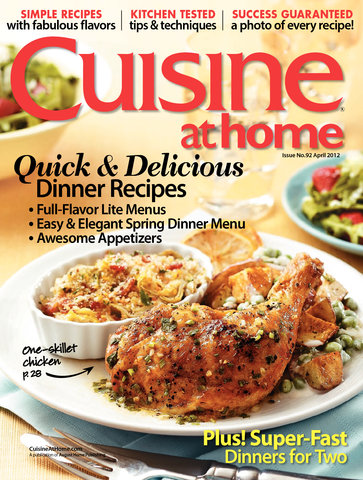 April 2012
Issue 92
Subscribe Today!
Preview This Issue
Subscription Options
Table of Contents
Fish & Chip Cakes with crispy chips
8
Welsh Rarebit with stewed tomatoes
10
Spring Irish Stew with roasted cabbage wedges
12
Pork Satay with teriyaki sauce
14
Pineapple rice with wasabi and lime
15
Roast Pork Tenderloin with strawberry-rhubarb sauce
16
Spiced Sweet Potato Fries
17
Bacon-Wrapped Tots with jalapeño
18
Cheeseburger Egg Rolls with special sauce
19
Piña Colada Shrimp with pineapple-rum sauce
21
Spring is the "age of asparagus." Enjoy it by taking a classic preparation in a new brunch direction.
Crab & Goat Cheese Ravioli
24
Skillet-Roasted Chicken with herb-lemon oil
28
Strawberry & Arugula Salad
29
Roasted Potatoes with creamed peas
31
Creamy Hot Chicken Salad
32
Ham & Mushroom "Fried" Rice
35
Never corned brisket before? With these directions, it's easier and more flavorful than you think.
Braised Brussels Sprouts
43
Mexican Tomato & Corn Salad
45
Chocolate-Coconut Candy Bar Cream Pie
51