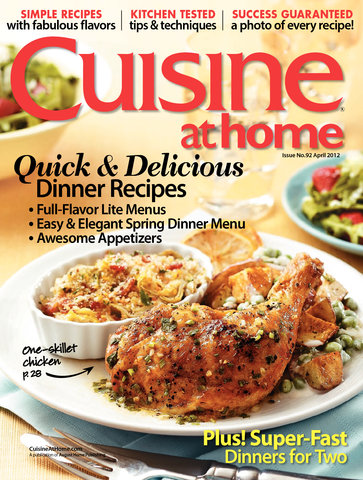 Subscribe Today!
Preview This Issue
Issue 92


April 2012
Table of Contents
Departments
4 TIPS & TIMESAVERS
6 Q&A
8 FISH & CHIP CAKES WITH CRISPY CHIPS
14 PORK SATAY WITH TERIYAKI SAUCE
18 BACON-WRAPPED TOTS WITH JALAPEÑO
22 ASPARAGUS
Spring is the "age of asparagus." Enjoy it by taking a classic preparation in a new brunch direction.
24 CRAB & GOAT CHEESE RAVIOLI
36 SPANISH EGGS & TOAST
40 CORNED BEEF
Never corned brisket before? With these directions, it's easier and more flavorful than you think.
48 NUTTY PIE CRUST
Feature