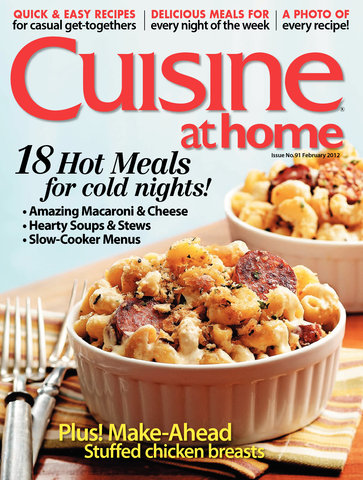 Subscribe Today!
Preview This Issue
Issue 91


February 2012
Table of Contents
Departments
4 FROM OUR READERS
6 Q&A
8 PAD THAI WITH SHRIMP OR PORK
14 STEAK AU POIVRE SALAD WITH LEMON PEPPER VINAIGRETTE
18 ALPINE MAC 'N CHEESE WITH KIELBASA & DIJON
22 GRAPEFRUIT & AVOCADO TOSTADAS
24 FISH VERACRUZ EN PAPILLOTE
32 STUFFED CHICKEN
Give dinner guests a surprise when you serve these chicken breasts filled with a rich, flavorful center.
36 TOMATO-KALE SOUP
48 CHOCOLATE TRUFFLE CHEESECAKE
Feature
28 GET TOGETHER
Gathering a group? Serve one or all of these recipes. They're as fun to make as they are to eat.
40 FOCACCIA
Make amazing Italian focaccia at home, then turn it into crowd-pleasing pizzas.
42 THREE EASY FOCACCIA PIZZAS
Salami & Prosciutto Topping / Vegetable Topping with spinach pesto / Potato-Rosemary Topping
44 SLOW-COOKER STEWS
Cook up a classic hearty stew and a soup with a twist. The slow cooker makes it all simple and easy.