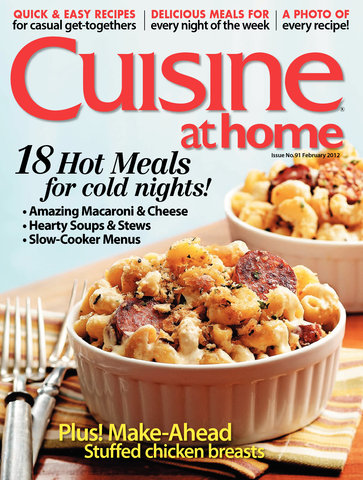 February 2012
Issue 91
Subscribe Today!
Preview This Issue
Subscription Options
Table of Contents
Pad Thai with shrimp or pork
8
Chicken Miso Soup with ramen noodles
10
Japanese Miso Soup with soba noodles
11
Korean Rice Bowl (Bibimbap)
12
Korean "Barbecued" Beef (Bulgogi)
13
Steak au Poivre Salad with lemon pepper vinaigrette
14
Baja Fish Taco Salad with creamy jalapeño dressing
16
Alpine Mac 'n Cheese with kielbasa & Dijon
18
Light Italian Mac 'n Cheese with four cheeses
20
Grapefruit & Avocado Tostadas
22
Grapefruit Tart with oatmeal-brown sugar crust
23
Fish Veracruz en Papillote
24
Garlic Bread with avocado butter
25
Salmon & Vegetables en Papillote
26
Walnut & Raisin Couscous
27
Gathering a group? Serve one or all of these recipes. They're as fun to make as they are to eat.
Cheesy Bacon-Jalapeño Roll-Ups
30
Pineapple Freeze with jalapeño
31
Give dinner guests a surprise when you serve these chicken breasts filled with a rich, flavorful center.
Cacciatore Butter-Stuffed Chicken with Lemon & Parsley Ditalini
32
Cheesy Mexican Butter-Stuffed Chicken with Cilantro-Bell Pepper Rice
35
Mediterranean Tuna Salad
37
Three Breakfast Smoothies
38
Make amazing Italian focaccia at home, then turn it into crowd-pleasing pizzas.
Three easy focaccia pizzas
42
Salami & Prosciutto Topping / Vegetable Topping with spinach pesto / Potato-Rosemary Topping
Cook up a classic hearty stew and a soup with a twist. The slow cooker makes it all simple and easy.
Slow Cooker Goulash with beets & parsley pasta
44
Chocolate Truffle Cheesecake
48
Cherry Sauce with Moscato d'Asti
50
Mini Cheescakes and Three Toppings
51