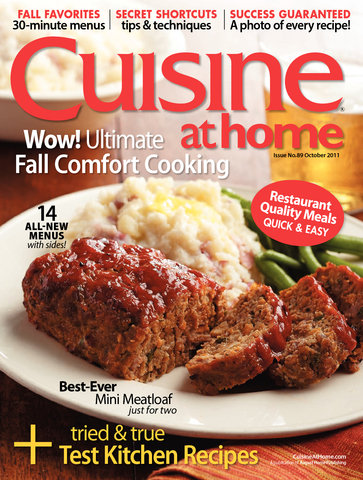 October 2011
Issue 89
Subscribe Today!
Preview This Issue
Subscription Options
Table of Contents
Gardener's Salad with Dijon vinaigrette
9
Crab-Alfredo Baked Shells
10
Chicken & Spinach Enchiladas
12
Guacamole Salad with cumin-lime vinaigrette
13
Crusted Chicken with almonds & sage
14
Curry Chicken Noodle Soup with Apple Grilled Cheese
18
"German" Onion Soup with Pretzel Grilled Cheese
20
Spanish Tomato Soup with Manchego Grilled Cheese
22
Meatloaf with barbecue glaze and Smashed Red Potatoes
24
Lasagna with mini meatballs and Garlic Basil Bread
26
Quick breads aren't just for breakfast anymore -- fill your bread basket with them all day.
Chili is a no-brainer this time of year. Break out the slow cooker for two no-fuss varieties.
Green Chicken Chili with white beans
32
Corn Salad with lime and honey
33
Texas-Style Chili with hominy
34
Seasoned Steak Fries with Jack cheese sauce
35
Garlic Mashed Potatoes with kale
39
Anjou pears are at their peak. Pick them and poach them for use in a pair of delicious recipes.
Poached Pear Salad with pecan-crusted goat cheese
41
Poached Pears with chocolate ganache
41
Creamy Icing and Spiced Maple Syrup
43
Ponzu Soba Noodles with broiled flank steak
44
Impress everyone at your table with this plum gorgeous Italian version of pie.
Pasta Frolla (Crostata Dough)
49
Plum Filling with ricotta topping
50
Fig & Grape Tartlets with blue cheese ice cream
51