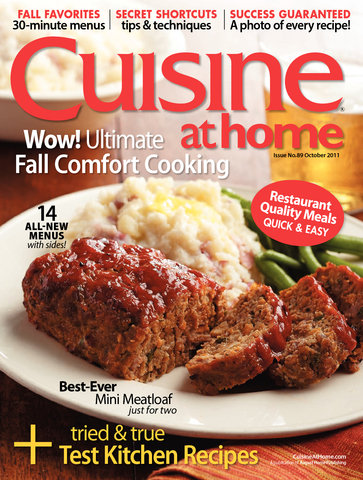 Subscribe Today!
Preview This Issue
Issue 89


October 2011
Table of Contents
Departments
4 FROM OUR READERS
6 Q&A
8 TURKEY PIE
14 CRUSTED CHICKEN WITH ALMONDS & SAGE
18 CURRY CHICKEN NOODLE SOUP WITH APPLE GRILLED CHEESE
24 MEATLOAF WITH BARBECUE GLAZE AND SMASHED RED POTATOES
36 SHORT RIBS
40 POACHED PEARS
Anjou pears are at their peak. Pick them and poach them for use in a pair of delicious recipes.
42 CINNAMON ROLL PANCAKES
48 CROSTADA
Impress everyone at your table with this plum gorgeous Italian version of pie.
Feature
28 QUICK BREADS
Quick breads aren't just for breakfast anymore -- fill your bread basket with them all day.
32 SLOW-COOKER CHILI
Chili is a no-brainer this time of year. Break out the slow cooker for two no-fuss varieties.