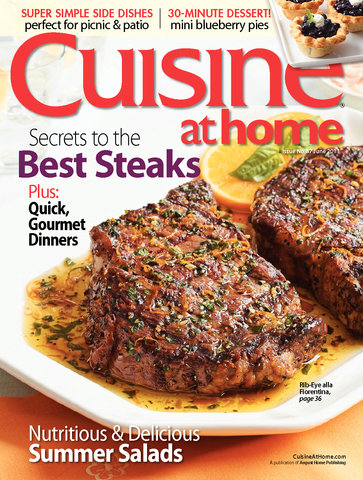 Subscribe Today!
Preview This Issue
Issue 87


June 2011
Online Extras
Recipes
Raspberry Sweet Tea
Makes: 2 quarts
Total Time: 20 minutes
For the sugar syrup, combine 1 cup water, sugar, and 1 pint raspberries in a small saucepan. Bring mixture to a boil, stirring to dissolve sugar and break up fruit; remove from heat.
Strain sugar syrup through a fine-mesh sieve. For a clear liquid, allow to drip without pressing the solids; let cool while brewing tea.
For the tea, pour 4 cups boiling water over tea bags and baking soda in a large pitcher. Steep tea for 5 minutes; remove tea bags.
Stir sugar syrup into tea, add ice, and pour into tall glasses. Garnish each serving with raspberries.
Nutrition Info:
Per per cup: 133 cal; 0g total fat ( sat); 0mg chol; 3mg sodium; 40g carb; 0g fiber; 0g protein
Table of Contents
Departments
4 FROM OUR READERS
6 Q&A
8 PARSLEY SALAD IN PITA BOWLS WITH SPICED CHICKPEAS
14 YAKITORI
18 BRIOCHE SLIDERS
With our recipe for brioche, the best thing about these juicy little burgers just might be the bun!
22 CHICKEN DIANE; SIDE DISH: LINGUINE WITH TRUFFLE BUTTER
26 YOGURT
Simple, easy, and economical -- we'll walk you through making yogurt at home.
42 MAPLE-BASTED SALMON
46 MINI BLUEBERRY PIES
48 STRAWBERRY SHORTCAKE PIE
Two summer favorites wrapped into one sweet pie -- it's so good we guarantee no leftovers.
Feature
30 SOUTHERN HOSPITALITY - APPETIZERS
Update the old-school, outdoor cocktail party with a dose of Southern comfort.
34 STEAK GRILLING GUIDE
Usher in summer and fire up the grill with this guide for the best big steaks to buy and grill.
40 SENSATIONAL SIDE DISHES
When it comes to side dishes, raise the bar with these sophisticated takes on garden-fresh produce.