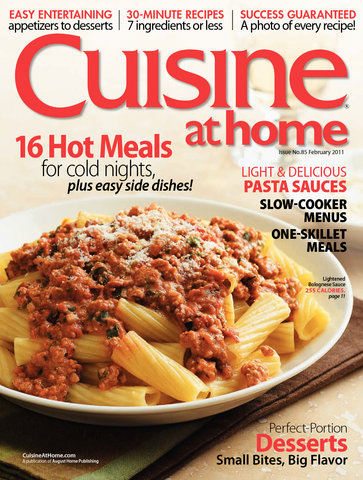 February 2011
Issue 85
Subscribe Today!
Preview This Issue
Subscription Options
Table of Contents
Light & Easy Pasta Sauces
8
SIDE DISH: Mango & Bell Pepper Salad
SIDE DISH: Roasted Cauliflower
SIDE DISH: Rice and Greens
Pizza Nachos with Pesto & Pepperoni
18
Spanish Nachos with Orange-Paprika Aioli
20
Caesar Salad Nachos with Rotisserie Chicken
21
Potato-Stuffed Poblanos
22
SIDE DISH: Black Bean Sauté
SIDE DISH: Spinach Salad
Infuse smoky flavor into your food with the ancient Chinese technique of stove-top tea smoking.
Online Extras
Tea-Smoking Supplies
For tea-smoking supplies check out these sources:
Gong Fu Tea
www.gongfu-tea.com
414 East Sixth Street
Des Moines, IA 50309
515-288-3388
Penzeys Spices
www.penzeys.com
12001 W Capitol Drive
Wauwatosa, WI 53222
800-741-7787
Tea-Smoked Baby Back Ribs
28
Crab & Artichoke Gratin
30
Green Gumbo with Trinity Rice
32
New Orleans-Style Bread Pudding with Coconut-Praline Sauce
34
Grape Pickers' Skillet with chicken
36
Pork Chops & Braised Cabbage with applesauce dumplings
38
Fish & Hush Puppy Skillet with ketchup tartar sauce
40
Open up one of winter's most seasonal (and sensual) offerings - the fresh oyster.
Oysters Rockefeller with tabasco beurre blanc
44
Chicken-Apple Sausage Boats
46
Banana-Stuffed French Toast with chocolate-hazelnut sauce
47
Churros with Hot Chocolate
51