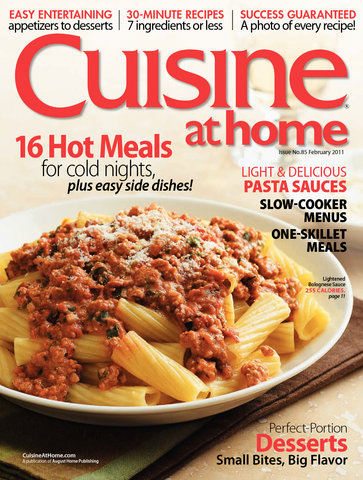 Subscribe Today!
Preview This Issue
Issue 85


February 2011
Table of Contents
Departments
4 TIPS & TIMESAVERS
6 Q & A
8 LIGHT & EASY PASTA SAUCES
12 JAMAICAN JERK PORK
SIDE DISH: Mango & Bell Pepper Salad
18 PIZZA NACHOS WITH PESTO & PEPPERONI
22 POTATO-STUFFED POBLANOS
SIDE DISH: Black Bean Sauté
42 OYSTERS
Open up one of winter's most seasonal (and sensual) offerings - the fresh oyster.
46 CHICKEN-APPLE SAUSAGE BOATS
48 MINI GRASSHOPPER PIES
Feature
26 TEA-SMOKED RIBS
Infuse smoky flavor into your food with the ancient Chinese technique of stove-top tea smoking.