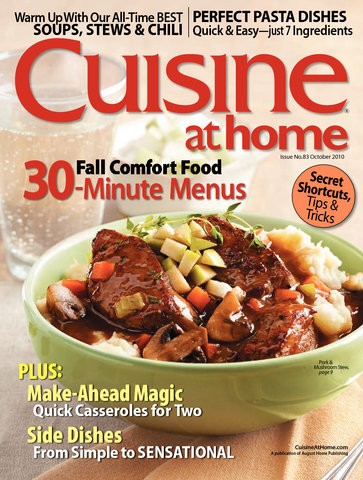 Subscribe Today!
Preview This Issue
Issue 83


October 2010
Table of Contents
Departments
4 TIPS & TIMESAVERS
6 JONAGOLD APPLES
Nothing says fall more than apples and apple pie. This year, try one of our favorite varieties, the Jonagold, and turn it into the easiest apple pie ever with our Apple Clafouti "Pie."
8 PORK & MUSHROOM STEW
14 BISCUITS
Our Best-Ever Buttermilk Biscuits topped with sweet Fresh Apricot Praline Butter or hearty Sausage Gravy are the perfect way to wake-up and warm-up on brisk fall mornings.
18 GAME DAY
24 LENTILS
Chili isn't usually praised for its healthful characteristics. This version made with super-healthy, über-delicious lentils has earned the title of health food - grab a spoon and dig in!
26 FRENCH GNOCCHI
The French definitely know comfort food! Here we turned their faster, easier version of gnocchi into the ultimate comfort food - decadent and luxurious mac n' cheese.
30 PORTABLE LUNCHES
Mornings too hectic for last-minute lunch planning? No problem! These fantastic make-ahead meals are easy to prepare and easy to pack for lunch every day of the week.
34 COZY CASSEROLES
Cuddle up to hot-dish dinners for two. Baked and bubbling with melted cheese and chicken, these fresh and fast takes on familiar food won't leave you cold.
38 THICK & CREAMY SOUPS
Armed with the secrets to producing silky-smooth, thick and creamy soups, it's time to break out the stockpots and ladles - soup's on!
44 FALL PASTAS
Toss a few simple ingredients with a few strands of pasta and some pasta water, and you'll have a hearty, saucy dinner in just 30 minutes that's perfect for any night of the week.
46 Q & A
48 SNACK BARS
Whether you need treats for the PTA meeting or coffee time with friends, we've got your sweet tooth covered. These updated snack bars will leave everyone begging for more!
Feature