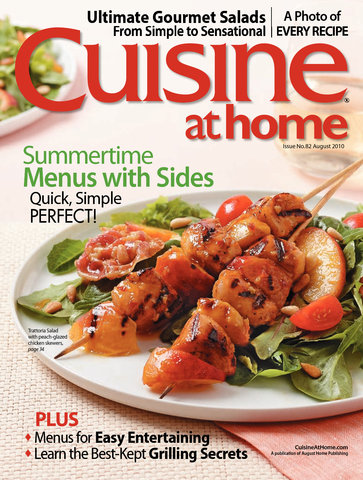 Subscribe Today!
Preview This Issue
Issue 82


August 2010
Online Extras
Recipes
Grilled Corn & Green Bean Salad
Makes: 4 cups
Total Time: 20 minutes
FOR THE VINAIGRETTE—
FOR THE SALAD—
Preheat grill to medium-high.
Whisk together 2 Tbsp. oil, vinegar, honey, and Dijon for vinaigrette.
Toss corn and green beans with oil.
Grill corn, rotating, until it starts to blacken, about 2 minutes per side. Grill beans over medium heat until cooked through, about 3 minutes. Transfer corn to a cutting board; set aside until cool enough to handle, about 5 minutes.
Slice corn from the cob; combine kernels and beans in a bowl and toss with vinaigrette and basil.
Season salad with salt.
Nutrition Info:
Per Per serving: 196 cal; 9g total fat (1g sat); 0mg chol; 80mg sodium; 24g carb; 4g fiber; 4g protein
Grilled Rainbow Trout with Basil Corn Cream Sauce
Makes: 4 servings
Total Time: 20 minutes
FOR THE SAUCE—
FOR THE FISH—
Preheat grill to medium-high. Clean grill grate and brush grate with oil.
Melt butter in a saucepan over medium-high heat. Add leeks and garlic. Sauté until leeks are wilted, 2 minutes. Deglaze pan with wine, and simmer until nearly evaporated, 1–2 minutes.
Add cream and lemon juice. Increase heat to high and boil until cream begins to thicken, about 3–4 minutes.
Reduce heat to medium, add corn and simmer until corn is crisp tender, 2–3 minutes. Season with salt and pepper.
Stir in basil just before serving.
Blot both sides of each fish dry with paper towels. Season fleshside of fish with 1–2 tsp. of Fish Rub. Coat seasoning generously with nonstick spray.
Place fish on grill grate, skin-side up, giving a slight nudge just as it hits the grate. Grill trout, uncovered, until outside edges of fish begin to brown slightly, 4–5 minutes. Carefully begin to slide a fishturner under the fillet. If it sticks, wait 30 seconds and try again. Flip fish skin side down. The fish should flake easily when tested with a fork.
Serve immediately with Basil Corn Cream Sauce. Garnish with lemon wedges.
Nutrition Info:
Per Per serving: 429 cal; 31g total fat (17g sat); 137mg chol; 649mg sodium; 15g carb; 3g fiber; 29g protein
Steak Bruschetta with goat cheese guacamole
Makes: 24 servings
Total Time: 25 minutes
FOR THE GUACAMOLE—
FOR THE STEAK—
Preheat grill to medium-high.
Pulse avocados, goat cheese, lemon juice, and horseradish in a food processor until chunky. Stir in scallions; season with salt and pepper.
Brush steak with oil and season with salt and pepper. Grill, covered, until medium-rare, 3–4 minutes per side. Remove from the grill, tent with foil, and rest 5 minutes. Slice against the grain into 24 thin strips.
To serve, dollop guacamole onto desired bruschetta, then top with a slice of steak, tomato, and a romaine leaf.
Nutrition Info:
Per : cal; total fat ( sat); chol; sodium; carb; fiber; protein
Brownies For Smores Bruschetta
Makes: 24 brownies
Total Time: 35 minutes
Preheat oven to 350°. Line an 11×17 jelly roll pan with parchment paper and coat with nonstick spray.
Whisk together flour, cocoa, baking powder, and salt in a bowl until blended; set aside.
Melt semisweet chocolate, sugar, and butter in a medium saucepan over low heat, stirring periodically to avoid scorching. Whisk in eggs one at a time. Whisk in vanilla and espresso powder. Remove from heat and cool slightly.
Fold flour-cocoa mixture into melted chocolate until combined. Transfer batter to prepared pan, spreading it to the edges. Bake 15–20 minutes. Cool completely, turn brownies out of pan, peel away parchment, and cut brownies into 24 rectangles.
Nutrition Info:
Per Per brownie: 183 cal; 10g total fat (6g sat); 45mg chol; 57mg sodium; 23g carb; 1g fiber; 3g protein
Table of Contents
Departments
4 TIPS & TIMESAVERS
6 WATERMELON
Nothing says summer quite like watermelon and grilling. This year, combine the two for a new twist to your summer routine with our Grilled Shrimp and Watermelon Wedges.
8 MEDITERRANEAN MEALS
Breathe some new life into your summertime menus with fresh-flavored Margherita Pasta, Tuna with Olive-Caper Sauce, and a decadent Steak Sandwich - all ready in 30 minutes.
14 GRILLED TROUT
Flawlessly grilled fish is just a few secrets away. Use our tips to turn your catch of the day into a simple shore breakfast of Rainbow Trout with hash browns, bacon, and eggs.
18 BACKYARD BRUSCHETTA BAR
America's favorite appetizer is your ticket to the easiest backyard party ever! With seven different bruschetta choices (even dessert), guests will be eager to "belly up" to this bar.
22 FRESH TOMATOES
The taste of summer can usually be summed up with one ingredient: fresh tomatoes. Try our recipe for so-simple baked tomato tarts to relish this sun-ripened favorite.
24 STUFFED FLANK STEAK
Try this dynamite alternative to traditional grilled steak with your choice of spicy hash brown or cheesy pizza stuffing. The method is simple and the flavor is spectacular!
28 GRILLED VEGETARIAN MENU
Bring something new to the table by grilling up a flavor-packed vegetarian menu. It features Falafel Burgers and Zucchini Fries for an ethnic twist on classic grilled fare.
32 FARMER'S SALAD WITH GRILLED SALMON
36 ROTISSERIE GRILLING
Rotisserie cooking is more than ready-to-serve, grocery store chicken. We show you the basics, from purchasing a kit for your grill to turning out the juiciest meats possible.
42 GRILLED CHEESE
Take grilled cheese beyond sandwiches of yellow American cheese and sliced white bread. Create fast and fabulous appetizers with three cheeses hot off the grill.
44 SUMMER'S BOUNTY
Enjoy the high flavor and low cost of summer's most perishable fruit throughout the fall and winter by learning two super-easy techniques for preserving berries.
46 Q & A
48 FROZEN LEMONADE PIE
Ice cold lemonade and summer go hand in hand. But lemonade has never been as cold or as good as it is in this frozen pie. It's sure to become a summer favorite.
Feature