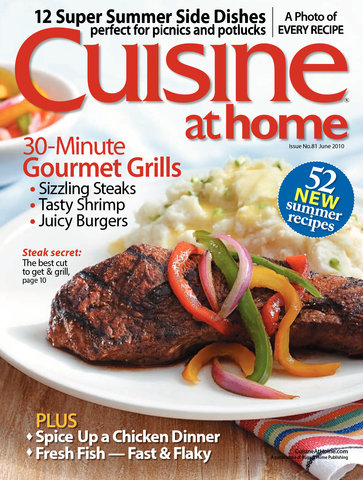 Subscribe Today!
Preview This Issue
Issue 81


June 2010
Online Extras
Recipes
This light and lemony recipe is quite literally a piece of cake to prepare—the hands-on time for making these cakes is less than 10 minutes. They're delicious served cool, but even better when still warm from the oven.
Table of Contents
Departments
4 TIPS & TIMESAVERS
6 SWEET ONIONS
Delicately sweet, deliciously mild, sweet onions are in high season now. Perfect for salsas, onion rings, or delightfully profiled in our Mediterranean-inspired gratin recipe.
8 30-MINUTE GOURMET GRILLS
Looking for ways to spice up weeknight dinners? Shrimp Tacos, Grilled Spanish Steak, and Cubano-style Burgers each with sides for full-meal deals are just the ticket.
14 SPICY HOT FRIED CHICKEN
18 POTATO PEA SALAD / WATERMELON LEMONADE
22 BLUEBERRIES
A unique color gives this berry a rainbow of health benefits. Learn about their super qualities, then serve them up in a perfect-for-summer BBQ sauce and grilled corn salad.
24 PERFECT OMELETS
If you can scramble an egg, the perfect omelet is only minutes away! Master our technique, then give our filling options a try for a quick, impressive breakfast, lunch, or dinner.
28 A FRESH & BRIGHT SEAFOOD MENU
Summer dining doesn't get fresher than this! Enjoy a delightful seafood menu that features a decadent radish sauce, pesto salad, and the lightest lemon pudding cakes.
32 PATIO DINNER MENU
Simplicity and elegance are defined by this grilled steak stack menu, which also includes an all-purpose pesto, an easy-to-make pasta, and a playful French-toast based dessert.
36 THAI CURRIES TONIGHT
If you're not already a fan of Thai foods, you will be! With our simple step-by-step directions for red, yellow, and green curries, you'll be able to toss your take-out menus for good.
42 PORTOBELLO MUSHROOMS
These hearty mushrooms make an excellent alternative to beef or chicken for dinner. Try them stuffed, grilled, or fried for a tasty meal in under 30 minutes.
44 GRILLED PIZZA
Skip the high price tag of restaurant brick-oven, gourmet pizzas. Instead, create them in your own backyard. Fire up the grill and let us show you how easy it is!
46 Q & A
48 PEANUT BUTTER & JAM CAKES
Not your mom's peanut butter and jam! These fun little "cakewiches" are sure to please the most discriminating sweet tooth and bring out the youngster in all of us.
Feature