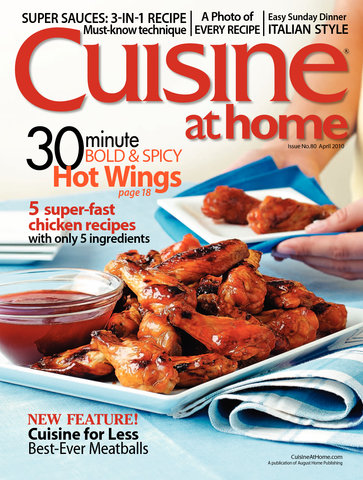 Subscribe Today!
Preview This Issue
Issue 80


April 2010
Online Extras
Recipes
Green Goddess Dressing
Makes: 1 1/4 cups
Total Time: 5 minutes
Whisk together ingredients for the dressing in a bowl. Cover and keep up to one week.
Nutrition Info:
Per Per Tbsp.: 61 cal; 7g total fat (2g sat); 10mg chol; 40mg sodium; 0g carb; 0g fiber; 0g protein
Table of Contents
Departments
4 TIPS & TIMESAVERS
6 Q & A
8 CRÈME FRAÎCHE
This rich, multi-purpose cream is simple to make at home. Try any one of our six ways to use it.
10 ENGLISH PEAS
Fresh peas make a wonderful companion to many dishes, but can also play a starring role in your next meal.
12 THREE-CHEESE LASAGNA WITH SPINACH & BOLOGNESE SAUCE
16 CASHEW BUTTER
18 CHICKEN FIVE WAYS
Everyday to elegant, these five ingredient chicken recipes are easy to shop for, easy to cook, and easy on the clock.
24 BENEDICT BASKETS
30 HOLLANDAISE
Impress everyone at the dinner table by mastering this classic French sauce. Have a little fun by putting three different flavor spins on it.
34 ROSEMARY-GARLIC LEG OF LAMB WITH ARTICHOKES AND MAKE-AHEAD PAN SAUCE
40 BROILED GREEK SCAMPI WITH PARMESAN CRUST
44 CROISSANTS AT HOME
Flaky, delicious, and melt-in-your-mouth buttery, these croissants are a bite of heaven from your oven.
48 MAKE-AHEAD MEATBALLS
Keep a stash of these tasty meatballs in the freezer for an easy, speedy meal or appetizer anytime you want!
50 STRAWBERRY PIZZA
Sweetened mascarpone, dark chocolate, and glazed strawberries turn a cookie crust into scrumptious slices!
Feature