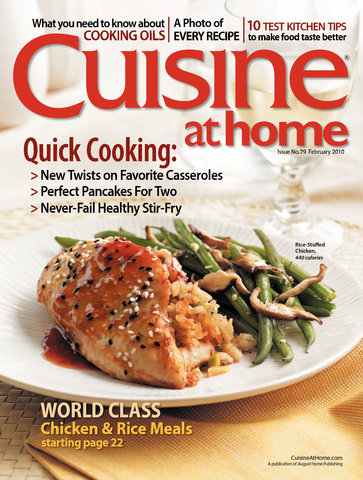 Subscribe Today!
Preview This Issue
Issue 79


February 2010
Online Extras
Recipes
Mushroom stock may not grace the pages of culinary textbooks, but we love its versatility. Its earthy flavor complements pastas, Asian dishes, and classic French foods. And it employs a method similar to that used to make [Beef Stock](/recipes/sauces-and-stuff/beef-stock/), but it's portobellos instead of bones that …
Sources
Knife Sharpeners
For more information on sending your knives to be professionally sharpened, check out these websites:
Seattle Knife Sharpening
www.seattleknifesharpening.com
(206) 465-6801
Zen Blades
www.zenblades.com
8340 SW 152nd Ave
Beaverton OR 97007
Table of Contents
Departments
4 TIPS & TIMESAVERS
6 CHOCOLATE BLISS
Truffles are easy to make and simple to gift, but you may need to make two batches - one to give and one to keep.
8 Q & A
How pimientos differ from roasted red peppers, scamorza cheese defined, and all the do's and don'ts of knife care with directions for keeping blades razor-sharp.
10 BUTTERNUT SQUASH
The flavor is in the name for this all-purpose winter squash - it's buttery and nutty.
12 QUICK & HEALTHFUL STIR-FRY
16 COOKING OIL PRIMER
An overview of cooking oils and their health benefits.
18 CASSEROLES WITH CLASS
22 WORLDWIDE CHICKEN & RICE
28 BASICS OF GOOD TASTE
Use the four basic tastes - salty, sweet, sour, and bitter - to make everything from your kitchen taste better.
36 POT ROASTS TO BOAST ABOUT
Meltingly tender pot roast is only a few hours away. Use this straightforward technique to create spectacular meals with everyday, affordable ingredients.
42 PRETZEL PANCAKES
46 SUQUET
50 TART, TASTY SOURDOUGH
These rustic rolls are equally delicious as a side for clam chowder or just by themselves with a pat of butter.
Feature