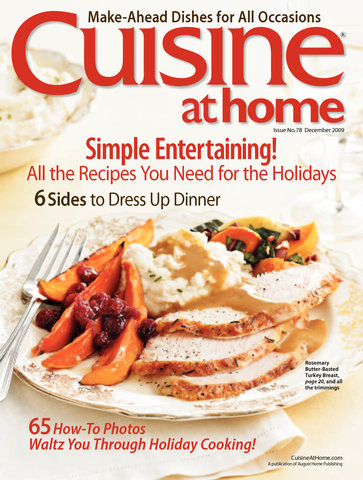 Subscribe Today!
Preview This Issue
Issue 78


December 2009
Online Extras
Recipes
Mexican Chorizo Filling
Makes: 1 lb.
Total Time: 25 minutes
Combine chili powder, garlic, cumin, coriander, salt, brown sugar, cayenne, cinnamon, and cloves in a large bowl. Add pork and vinegar; blend mixture until combined.
Sauté sausage mixture in oil in a sauté pan over medium-high heat until browned, 8–10 minutes. Chill filling until ready to fill tamales.
Nutrition Info:
Per Per 1/4 lb.: 349 cal; 28g total fat (9g sat); 82mg chol; 545mg sodium; 3g carb; 1g fiber; 19g protein
Pfeffernüsse
Makes: 680 penny-sized cookies
Total Time: 15 minutes + 10 minutes baking per batch
Whisk together the flour, cinnamon, baking soda, and spices; set aside.
Beat butter with an electric mixer for 30 seconds. Beat in brown sugar and granulated sugar, creaming until smooth.
Beat in egg yolk, molasses, and water; beat smooth.
Gradually beat in flour mixture and pecans; batter will be thick. Working on a lightly floured surface with a small amount of dough at a time (about 2 Tbsp.), roll dough into a pencil shape. Using floured kitchen shears, snip dough into1/8- to 1/4-inch pieces onto a greased baking sheet. Bake cookies in a 350° oven until brown and crisp, about 8-10 minutes.
Nutrition Info:
Per Per 6 cookies: 19 cal; 1g total fat ( sat); 3mg chol; 4mg sodium; 3g carb; 0g fiber; 0g protein
Table of Contents
Departments
4 FROM OUR READERS: TIPS AND TIMESAVERS
6 WAKE UP WITH COFFEE CAKE
Gifts for coffee lovers, and all about coffee beans.
8 CUISINE NOTES: Q & A
A look at different types of flour, Mexican vs. Spanish chorizo, salted vs. unsalted butter, how confectioner's sugar got its name - and more.
10 POMEGRANATES
Only available for a few months during the year, these culinary jewels sparkle in holiday recipes.
12 HOLIDAY CHOWDER
We offer a lightened classic soup, homemade crackers that are great for munching, and a spicy seasonal trifle for dessert.
16 SURVIVAL GUIDE TO HOLIDAY DRINKS
Try our slimmed-down version of a party-season favorite.
18 HOLIDAY DINNER - TURKEY OR BEEF?
Whether you prefer turkey or a standing rib roast, you'll love our show-off versions of these classic holiday entrées - and our easy gravy made without drippings.
24 THE SIDES MAKE THE FEAST
32 SIMPLY ITALIAN
36 LITTLE BITES, BIG FLAVOR
You might not want to wait for a party to share these showy, delicious little morsels with everyone you know. Best of all, each one can be made ahead.
44 CHEESECAKE OR PECAN PIE?
Craving two desserts? One bite of this elegant sweet will solve the problem, but you still may want to eat two slices.
46 TAMALES AT HOME
We show you everything you need to know to make this delicious Latin American holiday classic. Feliz Navidad!
50 NEW MEXICO'S COOKIE
A spicy little sweet to enliven any holiday cookie tray.
Feature