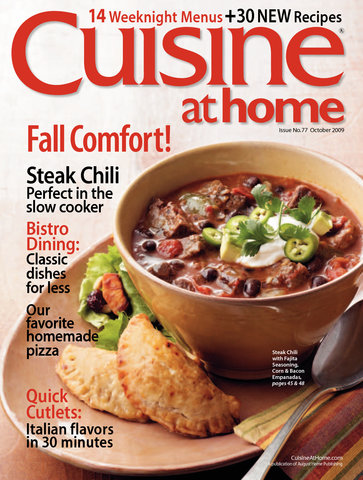 Subscribe Today!
Preview This Issue
Issue 77


October 2009
Online Extras
Recipes
Creamy Mushroom Sauce
Makes: 2 cups
Total Time: 20 minutes
Heat oil and butter together over medium-high heat, just until butter melts.
Add shallots and sauté until softened, 2 minutes. Stir in garlic, cook 1 minute. Add mushrooms and sear, do not stir until mushrooms begin to brown. Sauté until most liquid is evaporated, 2–3 minutes.
Stir in tomato paste and sauté until beginning to brown, about 2 minutes. Sprinkle in flour and stir to combine.
Pour sherry in and scrape the bottom of the pan. Add stock gradually whisking smooth. Reduce heat to medium and simmer for 5 minutes. Add cream and return to a boil. Remove from heat and stir in sage and lemon juice. Season with salt and pepper to taste.
Nutrition Info:
Per Per 1/4 cup: 93 cal; 6g total fat (3g sat); 14mg chol; 105mg sodium; 6g carb; 0g fiber; 2g protein
Raspberry Ketchup
Makes: 1 cup
Total Time: 45 minutes
Combine raspberries, tomato, brown sugar, vinegar, bourbon, and salt in a small saucepan over medium heat until simmering; transfer to blender.
Purée berry-tomato mixture until smooth in a food processor or blender. Strain mixture through a fine mesh sieve to remove seeds, skins, and any pulp. Return purée to saucepan over medium-high heat. Add cloves, nutmeg, and cayenne; bring mixture to a boil and reduce until it reaches the consistency of ketchup, about 20 minutes.
Nutrition Info:
Per Per 1/4 cup: 161 cal; 0g total fat ( sat); 0mg chol; 242mg sodium; 44g carb; 1g fiber; 1g protein
Videos
Learn how to clean mussels for cooking with this short technique video from the test kitchen of Cuisine at Home magazine. We also discuss debearding and whether it can be …
Table of Contents
Departments
4 TIPS & TIMESAVERS
6 A PASSION FOR PIZZA
Pizza gadgets and an out-of-the-ordinary recipe.
8 Q & A
Cutting boards that won't dull your knives, all about cooking plantains, how to use a meat thermometer, where all those varieties of honey come from - and more.
10 FRESH GREEN TOMATOES
You've seen the movie, and you may have read the book. Now it's time to taste this late-summer pan-fried treat.
12 AUTUMN FLAVORS
16 FRUIT OF THE VINE
Loaded with health benefits, seasonal grapes star in our spicy chutney. Use it to add a little zing to sandwiches.
18 QUICK-COOKING CUTLETS
22 BRINGING THE BISTRO HOME
30 STOCK OPTIONS
Simple stocks are one of the building blocks of fine food. Follow our guidelines, then use our homemade stocks to create your own fabulous soups, stews, sauces, and more.
38 SAGE ADVICE ABOUT PORK
44 HARVEST FALL FESTIVAL
50 SOUTHERN SWEETNESS
From the Ozarks by way of Charleston, South Carolina, comes an apple dessert with the crunchiest crust ever.
Feature