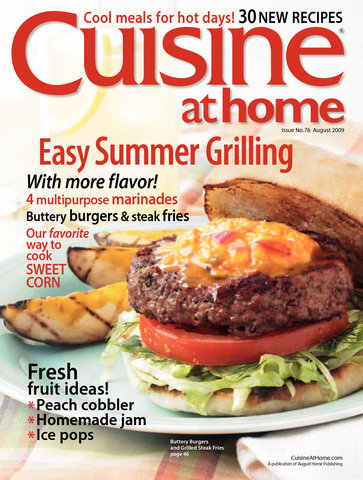 Subscribe Today!
Preview This Issue
Issue 76


August 2009
Online Extras
Recipes
Sweet Corn Vinaigrette
Makes: About 1 cup
Total Time: 5 minutes
Whisk together corn kernels, bell pepper, oil, vinegar, honey, and Dijon in a small bowl until emulsified. Stir in chives; season with salt and pepper.
Nutrition Info:
Per : cal; total fat ( sat); chol; sodium; carb; fiber; protein
Sources
Preserving Supplies
Canning Pantry -- http://www.canningpantry.com/
800-285-9044
A good source for canning equipment --jars, lids, canners, lifters, pectin, and more.
Fresh Preserving (Ball) -- http://www.freshpreserving.com/
800-240-3340
A trusted food storage source since 1884 --check here for supplies, tips, and recipes.
Table of Contents
Departments
4 TIPS & TIMESAVERS
6 LOCAL BOUNTY
Shopping, growing, and cooking green.
8 Q&A
Is the rind on Brie cheese edible? How can you tell if garlic is past its prime? Plus information about buying and storing tomatillos, all about whole-grain mustard, and more.
10 A FRESH LOOK AT CORN
New ways to serve everyone's favorite summer veggie - plus our preferred methods for cooking it.
12 HEALTHFUL ISLAND HOPPING
Our tropical dinner is flavorful, fun - and good for you!
16 CHECK OUT WHOLE-GRAIN PASTAS
Our pasta primer clues you in on today's more healthful noodles.
18 SOUTH SEAS' COOL MEALS
Slightly exotic recipes perfectly suited to summer.
22 COCONUT PEACH COBBLER
30 MARINADES
Want to add flavor to food while cutting down the time you spend in the kitchen? Marinades are the easy answer.
38 HOMEMADE PRESERVES
Savor the flavor of fresh fruits all year long.
44 LET THE GOOD TIMES ROLL
No place is better suited for a party than New Orleans. We add our own twist to some classic Cajun flavors.
46 EVERYDAY HOLIDAY
A melt-in-your mouth cookout with make-ahead ease.
50 ALOHA PUNCH
Feature