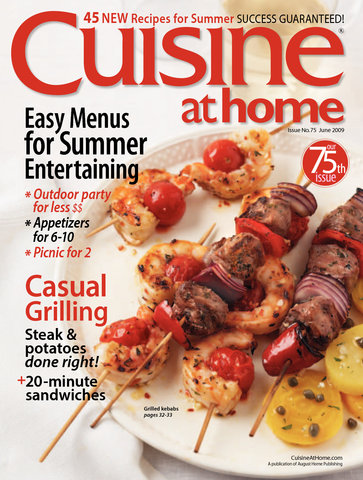 Subscribe Today!
Preview This Issue
Issue 75


June 2009
Table of Contents
Departments
4 FROM OUR READERS: TIPS & TIMESAVERS
6 THE EGG COMES OUT OF ITS SHELL
We share a luscious brunch recipe, plus all you need to know about techniques and tools for cooking eggs to perfection.
8 CUISINE NOTES: Q & A
What herbs are in fines herbs? Is there any difference between rice vinegar and rice wine vinegar? How to eat an artichoke, two good ways to toast nuts, and more.
10 FRESH ARTICHOKES
Edible petals to dip, and an elegant, yummy-tasting pizza.
12 PAELLA SIMPLIFIED
Catch of the day: An easy menu loaded with Spanish flair - along with some tips for choosing healthful seafood.
16 BUILD A BETTER SALAD
Follow our blueprint for nutritionally sound side salads.
18 SANDWICHES STAND TALL
20 CHURN THINGS UP
Our oh-so-cool ice cream desserts feature hot new flavors.
28 A FINE MEZE
Authentic Greek flavors characterize our classic selection of small-plate appetizers - ideal for entertaining.
36 LIGHT YOUR FIRE
Our grilled steak dinner menu includes complete instructions for charcoal grilling over a three-tiered fire.
40 THE ART OF THE PICNIC
Let our fabulous French fare inspire your next picnic ... and impress one special guest.
44 INVITING SUMMER SPREAD
Entertain a crowd for less! Our cater-it-yourself Latin flavored buffet features everything you need to know.
50 TOAST OF THE TOWN
Pretty and popular: Raise a glass to a retro favorite.
Feature