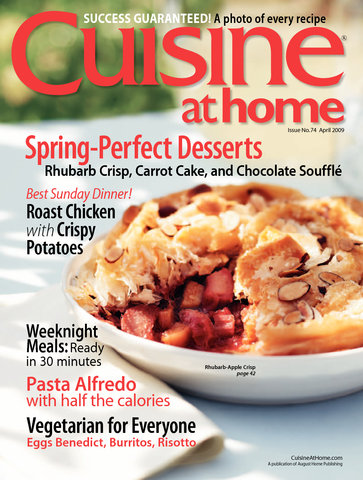 Subscribe Today!
Preview This Issue
Issue 74


April 2009
Online Extras
Recipes
Avocado-Cilantro Crema
Makes: about 1 cup
Total Time: 10 minutes
Combine avocado, sour cream, cilantro, lime juice, garlic, and salt in a bowl until blended. Cover crema and chill until serving.
Nutrition Info:
Per Per 1 Tbsp: 36 cal; 3g total fat (1g sat); 5mg chol; 4mg sodium; 1g carb; 1g fiber; 1g protein
Chocolate Bread Pudding
Makes: 10 slices
Total Time: 1 1/2 hours
Preheat oven to 350&deg. Coat a 9-inch springform pan with 1 Tbsp. softened unsalted butter.
Melt chocolate chips with brown sugar and butter in a saucepan over low heat. Stir frequently until chips are smooth, about 8 minutes.
Whisk together milk, eggs, vanilla, espresso powder, and salt and pour over bread cubes. Toss well so the bread absorbs most of the liquid and begins to lose its shape.
Fold melted chocolate into bread mixture, then transfer to the prepared pan. Bake for 1 hour, or until the center of pudding springs back when gently pressed. Cool on a rack for 15 minutes, remove sides of spring form pan, and slice pudding.
Nutrition Info:
Per Per slice: 562 cal; 26g total fat (16g sat); 82mg chol; 411mg sodium; 76g carb; 4g fiber; 10g protein
Table of Contents
Departments
4 ROLL WITH IT
We share our best-tasting dinner rolls ever and our flour of choice, plus tricks of the trade for accurate measuring.
6 REDEFINING ALFREDO
Primo taste, half the calories: Dinner doesn't get any better.
8 FROM OUR READERS: TIPS & TIMESAVERS
A super-speedy dessert sauce; tricks for making french fries, thawing chicken, and more - plus a favorite Cuisine recipe.
10 MAGIC BEANS
The more of them you eat, the greater the health benefits.
12 Q&A
What does it mean to "sweat"? What's the difference between curry powder and curry paste? The bottom line on convection cooking, how to buy fennel, and more.
14 PAN-SEARED FLATIRON STEAK
18 VEGETARIAN FOR A DAY
Breakfast, lunch, and dinner: Try three inspired meals that taste terrific and let you give meat a day off.
24 TRY SOME DIM SUM
Who doesn't adore elegant, exotic little Asian dumplings? We spill the secrets for making these spectacular-looking, great-tasting Cantonese delights in your own kitchen.
32 FRENCH CREPES
36 PORTABLE POWER
We take hand-held mixers for a spin. Learn which ones we like best and why.
38 BLT (BACON, LEEK & TOMATO) SOUFFLE
42 RHUBARB-APPLE CRISP
A sparkling dessert that's a springtime jewel.
44 SIT-DOWN SUNDAY DINNER
50 CRAB SHACK DELICACY
Crab cakes take a back seat to this regional specialty
Feature