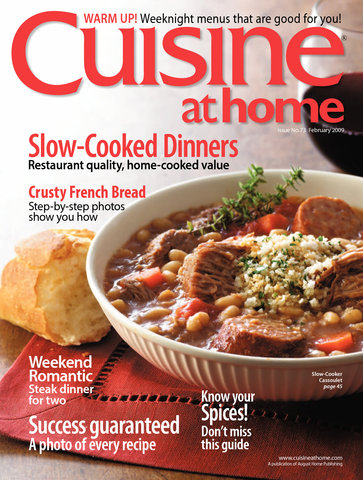 Subscribe Today!
Preview This Issue
Issue 73


February 2009
Online Extras
Recipes
Fried Wonton Strips
Makes: 2 cups strips
Total Time: 5 minutes
Fry wonton strips in 1-inch peanut oil in a skillet over medium-high heat. Cook in batches until light brown and crisp, about 1 minute. Transfer wonton strips to a paper-towel lined plate and season with salt.
Nutrition Info:
Per Per 1/2 cup: 277 cal; 11g total fat (2g sat); 6mg chol; 366mg sodium; 37g carb; 1g fiber; 6g protein
Philly Cheese Steak Cheese Sauce
Makes: 1 1/3 cups (4 servings total)
Total Time: 10 minutes
Heat cream in a saucepan over medium-low heat. Add Cheddar and mozzarella cheeses; let sauce stand several minutes to melt the cheese. Stir in seasonings until blended. Keep sauce warm over low heat until ready to serve.
Nutrition Info:
Per Per serving (1/3 cup): 279 cal; 27g total fat (17g sat); 98mg chol; 228mg sodium; 3g carb; 0g fiber; 8g protein
Rosemary-Olive Oil Boule
Makes: 1 boule
Total Time: 4 1/2 hours + cooling
FOR THE POOLISH STARTER—
FOR THE DOUGH—
Combine bread flour, water, and yeast (rehydrated with 1 Tbsp. water from the 3/4 cup) for the poolish starter in a measuring cup or bowl until the mixture looks like lumpy pancake batter. Cover poolish with plastic wrap and let it rest at room temperature for 3–4 hours. Surface will be bubbly. Refrigerate poolish overnight, then let poolish come to room temperature (about 1 hour) before using it in bread dough.
Whisk together 1 1/2 cups all-purpose flour, rosemary, and salt for the dough in a large bowl. Add yeast (rehydrated with 1 Tbsp. water from the 1/4 cup). Stir remaining water into poolish starter. (It will be very thin.) Using a wooden spoon, stir poolish and olive oil into flour mixture until blended. (Dough will be very wet.) Scrape dough onto well-floured surface and turn with bench knife, adding more flour (from remaining 1/2 cup) sparingly, just until dough can be worked with hands. Turn a bowl upside down over dough and let dough rest for 10–15 minutes to develop gluten.
Knead dough until smooth but still slightly sticky. (Do not add more flour to work surface; if needed, flour hands.) Knead 10–15 minutes more by hand (or 8 minutes by stand mixer on medium speed with a dough hook), or until dough passes "window pane" test (see photo, Issue 73, page 20).
Place dough in an oiled bowl, turning to coat. Cover dough with plastic wrap; let rise in a warm place for 1 hour. Degas dough slightly by tri-folding and flipping it over in the bowl; cover dough again and let it rise for 1 more hour.
Shape dough into boule (see photos 1 & 2, Issue 73, page 24). Transfer to a banneton (see Issue 73, page 24) or parchment-lined inverted baking sheet. Cover boule with plastic wrap coated with nonstick spray and let rise 1 hour.
Preheat oven to 475°, with baking stone (or another inverted baking sheet) placed on middle rack. If using banneton, flip boule onto back of cool parchment-lined baking sheet so seam is on the bottom. Slash boule 1/4- to 1/2-inch deep several times across top in design of choice, using a straight-edge razor or serrated knife.
Mist boule heavily with hot water. Immediately slide boule and parchment onto preheated baking stone (or hot inverted baking sheet). Mist inside of oven with 10 sprays of water; close oven door. Wait 30 seconds and repeat. Reduce heat to 450° and bake boule 10 minutes. Reduce heat to 425°; bake boule an additional 10 minutes. Finally, reduce heat to 375° and bake boule 20 more minutes. Remove boule from oven; cool bread on rack 45 minutes.
Nutrition Info:
Per Per slice: 119 cal; 4g total fat (1g sat); 0mg chol; 218mg sodium; 19g carb; 1g fiber; 3g protein
Sautéed Collard Greens
Makes: 2 1/2 cups
Total Time: 20 minutes
Sauté greens in oil in a large sauté pan over medium-high heat for 1-2 minutes, tossing constantly. Add garlic; sauté briefly, then add broth, salt, and pepper. Cook until tender but not mushy, 3-4 minutes.
Nutrition Info:
Per Per 1/2 cup: 58 cal; 3g total fat ( sat); 0mg chol; 22mg sodium; 6g carb; 3g fiber; 2g protein
Table of Contents
Departments
4 BLISSFUL BAKING
Chocolates we love for baking, and don't miss our all-time best recipe for Blondies.
6 BALANCING ACT
We introduce a brand-new nutritional feature this issue, with seven simple cooking strategies to improve nutrition.
14 BOURBON BEEF NOODLE BOWL
18 BREAD 101
French bread demystified: Learn the secrets for creating crusty, flavorful loaves in your own kitchen. All it takes is four simple ingredients and a powerful desire to bake.
26 NOODLES IN A HURRY
Hungry for something different? Try this Asian-inspired noodle salad that you can create in only 30 minutes.
28 FROM OUR READERS: TIPS
30 A TASTE FOR SPICE
There's a world of flavor just waiting to be discovered in the spice aisle of your nearest supermarket.
38 WINTER INDULGENCES
42 FROM OUR TEST KITCHEN: Q & A
What's the difference between a bisque and a cream soup? Why do cookies flatten? Why do white chocolate chips turn grainy? Where do sesame seeds come from?
44 SLOW & SIMMERED WINS THE RACE
You can create restaurant-style meals at home using your slow cooker! Eat in -- save time and money.
48 FREEDOM CROCKS
Looking for the perfect slow-cooker? See which ones worked well in our Test Kitchen.
50 PHILLY'S FINEST
A perfect sandwich from the City of Brotherly Love.
Feature