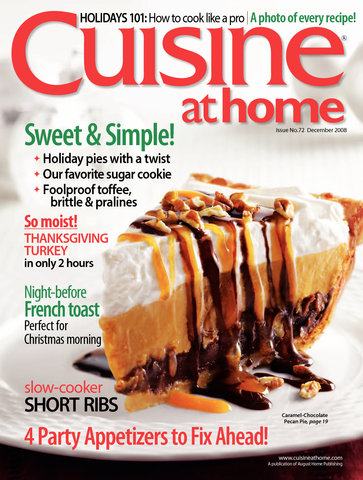 Subscribe Today!
Preview This Issue
Issue 72


December 2008
Online Extras
Videos
Blind Baking
Rolling Pie Dough
Table of Contents
Departments
4 FROM OUR READERS: TIPS
6 A NEW THANKSGIVING TRADITION
This holiday menu takes the fuss out of fancy. We share our secrets for super-moist turkey along with some of our best-ever side dishes.
12 ANY WAY YOU SLICE IT
When it comes to dessert, homemade pie is in a class of its own. Learn everything you need to know to create seasonal showstoppers.
20 HOLIDAY GIFT BASKETS
Any master griller or pastry chef on your gift list will be thrilled to see one of these amazing baskets under the tree.
22 EDIBLE SUNSHINE
There's nothing quite like the bright, bracing fresh flavor of citrus to wake you from a cold winter's nap.
26 SIMPLY SATISFYING
30 PARMESAN-CRUSTED HALIBUT
34 SOUR CREAM SUGAR COOKIES WITH LEMON ZEST
38 SLOW-COOKED MOROCCAN SHORT RIBS
42 FROM OUR TEST KITCHEN: Q&A
44 OLD FASHIONED CANDIES
When it comes to sweets, this tasty trio of sugary treats is irresistible.
48 ASIAN CHICKEN ROLLS
Feature