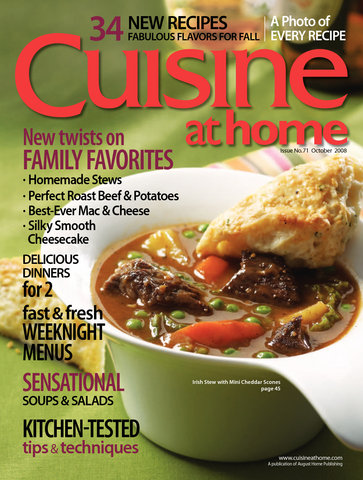 Subscribe Today!
Preview This Issue
Issue 71


October 2008
Table of Contents
Departments
4 TIPS
6 POT PIES
Think outside the box - one bite of these hearty, homey pot pies and you'll never serve those from the freezer again.
12 PEPPERCORN-CRUSTED ROAST BEEF
The only thing dainty about this delicious beef dinner for two is its size.
16 PASTA PRIMER
After a summer of dining al fresco, get to know your kitchen again and crank out some homemade pasta.
22 DINNER IN NEW ORLEANS
The Big Easy isn't quite so "big" with this svelte, yet flavorful menu.
26 PASTA MAKERS
Since pasta-making is a fairly big job, it pays to have a machine that performs well. You won't go wrong with these.
28 PUMPKINS
Pumpkins have a story all their own. Here's the scoop on one of autumn's most treasured symbols.
32 BASIC RECIPES
Who knows when you'll need a recipe for caramel sauce or banana bread? Don't worry - we've got your back.
34 VIETNAMESE BEEF NOODLE BOWL
42 Q & A
44 STEW & CHOWDER
Nothing says autumn like a bowl of hearty, homemade stew or chowder. Here are two with perfect sides.
52 STACKED APPLE "PIES"
Feature
3 RECIPE CORRECTION: HONEY-LIME CHICKEN FAJITAS
Refers to Issue #69, June 2008, Page 9.
40 CLASSIC COMFORT
What are the three most soothing food words? Macaroni and cheese.
48 GOAT CHEESE CHEESECAKE
This contemporary spin on one of the world's most popular desserts is sleek, sophisticated, and scrumptious.