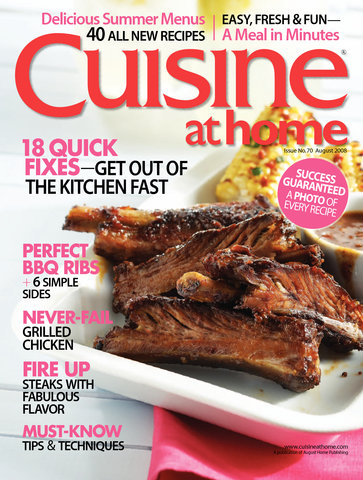 Subscribe Today!
Preview This Issue
Issue 70


August 2008
Online Extras
Recipes
Lamb Chops with Jalapeño Mint Sauce
Makes: 4
Total Time: 20
Trim:
Combine; Dredge Lamb Loin Chops:
Saute; Remove and Keep Warm:
Add; Scrape Pan:
Stir in; Bring to Boil; Reduce Heat and Simmer:
Off Heat, Stir in:
Trim fat from chops.
Combine flour and steak seasoning; dredge both sides of each chop in flour mixture. Heat oil in a saute pan over medium-high.
Saute chops; sear 5 min. per side for medium-rare. Remove chops from pan; keep warm.
Add broth to pan, scraping up any brown bits.
Stir in jelly and jalapeño; bring to a boil, stirring until jelly melts. Reduce heat and simmer 3 minutes.
Off heat, stir in mint. To serve, drizzle about 3 T. sauce over each chop.
Option: For a little less spiciness and a bit sweeter flavor, substitute seedless raspberry jelly for the jalapeño jelly.
Nutrition Info:
Per : 254 cal; 8g total fat ( sat); chol; 817mg sodium; 29g carb; fiber; 0g protein
Mojitos
Makes: Four 10-oz. servings
Total Time: 15 minutes
Muddle chopped mint and sugar together in a pitcher, crushing with the handle of a wooden spoon. Add rum and lime juice, stir to dissolve sugar, then strain into tall glasses.
Finish each drink with ice, then top with club soda. Garnish glasses with mint and sliced limes.
Nutrition Info:
Per Per drink: 176 cal; 0g total fat ( sat); 0mg chol; 1mg sodium; 15g carb; 0g fiber; 0g protein
Cherry Pie Filling
Makes: enough for 12 fried pies
Total Time: about 35 minutes
Combine and reduce:
Stir in:
Combine frozen cherries, juice, sugar, dried cherries, cinnamon stick, and butter in a saucepan over medium-high heat. Bring to a simmer; reduce until liquid has thickened slightly and dried cherries are reconstituted, 20–25 minutes.
Stir in preserves and tapioca until incorporated. Simmer until mixture thickens to a jelly consistency, 5 minutes more. Discard cinnamon stick and transfer filling to a bowl to cool. Refrigerate until cold.
Nutrition Info:
Per : cal; total fat ( sat); chol; sodium; carb; fiber; protein
Corn & Tomato Salad
Makes: 5 cups
Total Time: about 20 minutes
Combine; Add; Stir in:
Off Heat, Stir in:
Saute bacon in saute pan over medium-high heat until crisp, 8–10 minutes. Remove from pan with a slotted spoon to a paper towel-lined plate, leaving drippings behind. Add garlic, cook for 30 seconds.
Combine vinegar, Dijon, and honey in a small bowl and add to the garlic; cook 30 seconds. Stir in corn, tomatoes, and scallions.
Off heat, stir in basil, salt, and pepper.
Nutrition Info:
Per : cal; total fat ( sat); chol; sodium; carb; fiber; protein
Videos
Trimming Lamb
Brewing Tea
Sources
Tea Supplies
Gong Fu Tea
GongFu-Tea.com
Gong Fu Tea
414 East Sixth Street
Des Moines, IA 50309
515-288-3388

Gong Fu Tea, a specialty tea shop located in the heart of downtown Des Moines, Iowa, has everything you need to make an aromatic, soothing cup of tea. They offer traditional tea pots with strainer inserts, cups, tea storage containers, loose leaf teas from all over the world, and many other accessories for the tea enthusiast. If you have any questions, the owners or any of their tea professionals will be happy to answer them for you. If you are unable to visit Gong Fu locally, all of their wares and teas are available online.
Ice cream scoops
Defrosting Scoops
Zeroll
Zeroll.com
The Zeroll Co.
P.O. Box 999
Fort Pierce, FL 34954
Customer Service (800) 872-5000 Extension 17

Zeroll makes aluminum scoops, spades, and dishers in various sizes.
Sur la Table
SurLaTable.com
Sur La Table
P.O. Box 840
Brownsburg, IN 46112
1-800-243-0852

The Zeroll aluminum scoop is available as well as a more affordable aluminum scoop with antifreeze.
Non-Defrosting Scoops
Klinq
Klinq.com
Customer Service
55 Union Rd. Suite 103-C
Spring Valley, NY 10977
1-866-554-6726

Fox Run Super Duper Ice Cream Scooper.
Disher
OXO
Oxo.com
OXO Consumer Care Center
C/O Helen of Troy
1 Helen of Troy Plaza
El Paso, TX 79912
(800) 545-4411

Trigger scoop.
Table of Contents
Departments
4 TIPS
6 BBQ RIBS
Sticky and savory, make these ribs part of summer's ultimate feast. Be sure to have plenty of napkins - you'll need 'em!
14 KOREAN BBQ AT HOME
Quick-grilled beef doused in a tangy dipping sauce - what's not to like?
18 ELEGANT LAMB MADE EASY
A simple grilling technique makes quick work of these lamb chops. Why save it for a special occasion? Try it tonight!
24 BASIC RECIPES
Don't be surprised if you turn to these recipes for some of the season's favorites again and again - even after things start to cool down.
26 ICE CREAM SCOOPS
Don't underestimate the power of a good ice cream scoop. It makes one of summer's big chores a little easier.
28 TIME FOR TEA
Move over coffee - there's a new brew in town. This article will help you navigate the big, wide world of loose leaf teas.
32 DINER DELIGHTS
Grilled and good for you, these slimmed down classics never tasted so good!
36 GARDEN GAZPACHO
42 CHICAGO DOGS
46 Q & A
52 WATERMELON MINT JULEPS
Feature