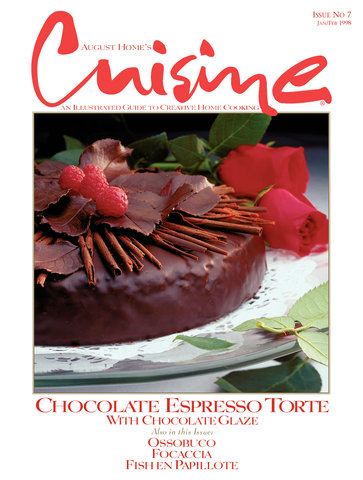 Subscribe Today!
Preview This Issue
Issue 7


February 1998
Table of Contents
Departments
4 TIPS AND TECHNIQUES
18 BUTTERMILK PANCAKES
I'll teach you the three secrets to making a truly light pancake.
28 SHRIMP AND SCALLOPS EN PAPILLOTE
34 ESPRESSO MACHINES
38 SPINACH POTATO SOUP
This is a great, low-fat alternative to cream soups. The base is thickened with potato.
39 WHAT'S HAPPENING IN FOOD
40 QUESTIONS & ANSWERS
44 TORTE WITH RASPBERRY SAUCE
Feature
6 OSSOBUCO
Tender braised veal served with gremolada. A classic Italian dish puts you in the heart of Milan.
12 GNOCCHI
The Italian version of dumplings. Learn to make potato, spinach, and semolina gnocchi.
16 MAPLE SYRUP
Couture's maple syrup is smoother than velvet. See how they make it.
24 FISH EN PAPILLOTE
En papillote is unique. No pans, fast, low-fat, and makes a great presentation.
30 WORKING WITH CHOCOLATE
Learn chocolate basics so you can dip strawberries or recreate our cover.
36 ESPRESSO
This isn't froufrou stuff. Learn how to buy and make /real/ espresso.
42 CHOCOLATE ESPRESSO TORTE
Don't just make this for Valentine's Day. It works great the other 364 days.