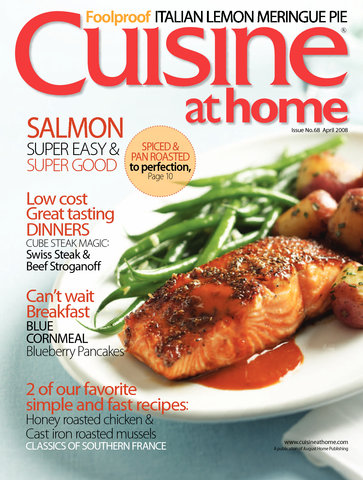 Subscribe Today!
Preview This Issue
Issue 68


April 2008
Online Extras
Recipes
Basic Chocolate Brownies
Makes: 12
Total Time:
Melt and Set Aside:
Whisk Together:
Beat until Foamy:
Preheat oven to 350° Melt in double-boiler: chocolate, sugar, butter over simmering water. Remove bowl. Cool to room temperature. Preheat oven. Coat bottom and sides of baking pan with nonstick spray. Cut and place parchment paper and spray again. As chocolate cools, measure 1/4 cup cocoa and sift into bowl containing flour, baking powder, and salt. Whisk ingredients together. Beat eggs, espresso powder, and vanilla until foamy, scraping once. Beat in cooled chocolate mixture, scraping once. Sprinkle small amount of flour in chocolate mixture and fold. Repeat. Add remaining flour. Fold in until no flour appears. Spread batter evenly in pan. Bake in center of oven 22–25 minutes or until a toothpick inserted in center is barely moist. Remove from oven and cool completely. Run knife around edge of pan. Place rack on top of pan and invert. Peel paper. Invert again onto cutting surface. With a sharp knife, trim off edges and cut brownies into 2" squares.
Nutrition Info:
Per None: 411 cal; 22g total fat ( sat); chol; 144mg sodium; 52g carb; 0g fiber; 0g protein
Braised Short Ribs
Makes: 6
Total Time: 4 hours
Sear in ¼ Cup Olive Oil:
Remove Ribs, Add:
Add, Then Ignite:
Add and Reduce by One-Fourth:
Add and Bring to Simmer:
Cover and Braise. Remove Ribs, Strain Sauce, and Chill.
Combine for Beurre Manie:
Saute in 3 T. Butter. Set Aside:
Saute in 2 T. Butter:
Add; Thicken with Beurre Manie:
Sear ribs on all sides, in a large, deep pan, in heated oil over medium-high heat.
Remove ribs to a platter after they are well-browned on all sides. Set them aside and keep them warm. Add all the chopped vegetables to pan. Reduce the heat a little and sweat the vegetables. You want them tender and a little browned. Place brandy in a measuring cup and microwave it on high for 30 seconds. This is dangerous.
Add brandy to pan. Ignite it with a long match to remove the alcohol. You may want to experiment using 2 T. at a time. After the brandy is burned off (cover pan with a lid to put out the flame, if needed).
Add the wine. Reduce the wine by ¼.
Add the ribs, beef stock, fresh thyme sprigs, and bay leaves to the pan. Bring to a boil. Now, it's ready to go into the oven to braise.
Cover the pan. Place in a 250–300° oven. You want the liquids in the pan just to maintain a simmer (a slow bubble). Turn the short ribs every 30 minutes. This ensures even cooking. Cook for about 2–3 hours in this gentle manner. Test short ribs for doneness. A skewer inserted in the meat should slide in easily and the meat should be pulling from the bones. If not serving immediately, remove short ribs from the pan. Let them cool completely. Then cover the ribs and refrigerate them. Strain the vegetables from the sauce; discard. Chill the sauce. After the sauce has chilled, any fat will have risen to the top and solidified. You can easily lift it off the sauce in large pieces.
Combine flour and butter for beurre manie. Blend it with your fingers until uniform. It should feel like soft pastry dough. Blanch onions for 1 minute in boiling water, then peel. Cut stems from shiitakes. Clean remaining mushrooms.
Saute peeled onions in 3 T. butter for 2 minutes. Then add all the mushrooms and saute just until tender. Set aside.
Saute shallots in a large pan, in 2 T. butter until tender.
Add red wine and reduce by half. Then add defatted sauce or stock. After liquid has come to a slow boil, whisk in walnut-sized pieces of beurre manie. Cook until sauce is desired thickness. Ribs and sauce shown here on Mashed Purple Potatoes.
Nutrition Info:
Per : 459 cal; 28g total fat ( sat); chol; 120mg sodium; 0g carb; 0g fiber; 0g protein
Late Winter Fruit Salad
Makes: 4 cups
Total Time: 15 minutes
Warm orange juice in a saucepan over medium heat.
Add apricots, remove from heat, and let stand until soft, about 10 minutes.
Pour juice and apricots over fresh fruit; toss with mint, sugar, lime juice, and salt. Serve immediately.
Nutrition Info:
Per per ½ cup: 58 cal; 0g total fat ( sat); chol; 1mg sodium; 15g carb; 2g fiber; 1g protein
Baked Potato Soup
Makes: 8
Total Time: 30
Rub with Oil and Salt:
Saute in 4 T. Unsalted Butter:
Whisk in:
Stir in:
Toss in 1 T. Olive Oil; Bake:
Prepare (Keep Separate):
Preheat oven to 450° with rack in center.
Rub prepared potatoes with oil and salt (doing this in a plastic bag makes the job less messy). Bake directly on the rack for 1 hour, or until tender all the way through when pierced with a skewer. Remove potatoes from the oven, split, and serve immediately. Cool baked potatoes slightly. Scoop out and lightly mash the flesh (reserve skins); set aside.
Saute onion in melted butter until soft, about 5 minutes.
Whisk in flour; cook 2–3 minutes.
Stir in broth and milk. Cook and stir until thick, 4–5 minutes. Add potato and simmer 5 minutes; stir in parsley and seasonings.
Toss strips of potato skins in oil, salt, and pepper. Roast in 400° oven 15 minutes, or until crisp.
Prepare remaining garnishes and serve with soup.
Nutrition Info:
Per : 393 cal; 21g total fat ( sat); chol; 536mg sodium; 40g carb; 0g fiber; 0g protein
Videos
Forming Samosas
Frenching Lamb
Blind Baking
Sources
Sake
Featured Sake
www.sakeone.com
1-800-550-SAKE
(503) 357-7056
820 Elm Str
Forest Grove, OR 97116

The blue bottle pictured left on Page 47 is Sake One's Momokawa Silver, and the one pictured right is their imported Murai Family Nebuta Honjozo.
Meat Tenderizers
Cuisinart Professional Meat Tenderizer
www.bedbathandbeyond.com
800-462-3966
Jaccard 15-Knife Meat Tenderizer
www.bedbathandbeyond.com
800-462-3966
Mixing bowls and spatulas
Bowls
Pyrex Glass Nesting Bowls
www.kohls.com
(866) 877-8886
Stainless Steel Mixing Bowl
www.surlatable.com
(800) 243-0852
Le Creuset 7.5 qt. Large Ceramic Mixing Bowl (kiwi color)
www.cooking.com
(800)-663-8810
For Customer Service: (877)-999-2433
Blue Melamine Bowl (comes in a set of 3)
www.surlatable.com
(800) 243-0852
Glass Batter Bowl (lid not pictured)
www.cooking.com
(800)-663-8810
For Customer Service: (877)-999-2433
Spatulas
Le Creuset large, medium, and small silicone spatulas
www.surlatable.com
(800) 243-0852
Pampered Chef Mix 'N Scraper (spoon spatula)
www.pamperedchef.com
(800)-663-8810
For Customer Service: (877)-999-2433
Table of Contents
Departments
4 TIPS
6 ALL HAIL KING SALMON!
Uninspiring salmon dishes have you feeling like you're swimming up stream? Try these no-fail recipes for perfect fillets.
12 HONEY-LEMON GRILLED CHICKEN
Simple and splendid, these thin chicken cutlets glazed with lemon and honey are a wonderful way to bring on spring.
16 BRING BACK CUBE STEAK!
Cube steak is the Cinderella of the culinary world. These two recipes turn humble cuts into satisfying dinners.
22 JAMAICAN JAVA GRILL
Bathing suit season is coming, but don't resign yourself to a diet of celery sticks. This meal is lighter than it looks!
26 MIXING BOWLS AND SPATULAS
It's easy to take utensils for granted. But this article will shed light on the importance of good bowls and spatulas.
28 ALL ABOUT EGGS
This culinary cornerstone doesn't usually get a second thought. But it's time to put eggs in the spotlight — they're incredible!
34 BASIC RECIPES
From simple blender hollandaise to homemade chorizo, here are four recipes you'll be glad to have up your sleeve.
36 SESAME CRUSTED PORK CHOPS
42 SPRING RISOTTO
Vegetables take center stage in these dishes. They are guaranteed to get a standing ovation.
46 Q & A
52 LIMONCELLO MINT LEMONADE
Here's a great way to use that bottle of limoncello you bought to make the pie!
Feature
30 BLUE CORN BLUEBERRY PANCAKES
Banish the box! Homemade pancakes are your guarantee to a great day.
32 BACON & EGG PASTRIES
Creamy eggs encased in tender puff pastry — morning never tasted so good.
48 SKY HIGH PIE
This is it, the lemon meringue pie you've been dreaming about. Sure, it takes some time to make, but it's worth every second.