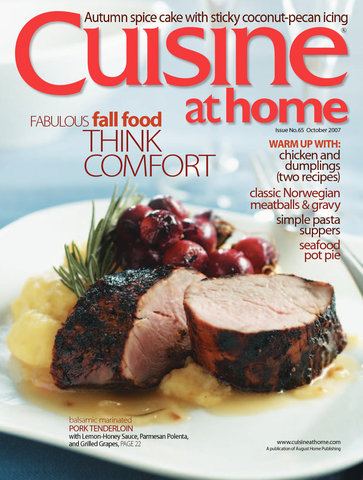 Subscribe Today!
Preview This Issue
Issue 65


October 2007
Online Extras
Recipes
3-Cheese Potato Gratin
Makes: 4
Total Time:
Combine:
Add; Simmer:
Toss; Layer with Potatoes:
Preheat oven to 450°. Coat a 2-quart casserole dish with nonstick cooking spray. Combine milk, cream, garlic, and spices in a large saucepan. Add potatoes and bring to a boil. Cover, reduce heat to low, and simmer 8 minutes. Discard garlic. Toss grated cheeses with flour; set aside. Layer half the potatoes in the casserole dish. Sprinkle half the cheese mixture over the potatoes. Add remaining potatoes and pour the milk mixture over the top. Sprinkle with the remaining cheese mixture. Coat a piece of foil with nonstick spray and tightly cover baking dish; bake for 30 minutes. Remove foil and bake an additional 20 minutes, or until gratin is browned and bubbly. Let gratin rest 10–15 minutes before serving.
Nutrition Info:
Per None: 290 cal; 13g total fat ( sat); chol; 440mg sodium; 36g carb; 3g fiber; 0g protein
Maple-Rum Sauce
Makes:
Total Time:
Boil, Reduce, and Strain:
Return to Saucepan. Whisk in:
Combine and Add:
Boil the first 6 ingredients for the Maple-Rum Sauce. Reduce to 1 1/2 cups, boiling approximately 5–7 min. Strain. Return to saucepan and whisk in dark rum and salt. Return to a boil. Combine cornstarch and juice in a small bowl, then whisk into syrup to thicken. Note: Make the Maple-Rum Sauce the night before and chill. In the morning, reheat the sauce, add the fruit, and simmer until warm.
Nutrition Info:
Per None: cal; total fat ( sat); chol; sodium; carb; fiber; protein
These cookies are easy to make and a great way to get children in on the act — with close supervision, of course. This recipe is super fun and easy to make, and can be customized with whatever fruits your prefer.
Lidia's Fettuccine Alfredo
Makes: 4
Total Time: 20
Boil:
Cook:
Begin to Melt:
Pour in; Boil:
Add:
Off Heat, Add:
Season with:
Boil the salted water in a large pot over high heat. Cook the pasta al dente. Begin to melt butter in a large saute pan over medium heat. Pour in the cream and chicken broth before the butter is completely melted, see. Bring to a boil. Simmer 2–3 min. Add the cooked pasta to the sauce right from boiling water. Stir and cook until sauce turns creamy (2 minutes). Off heat, add yolks into center of pasta and stir quickly to prevent curdling. Sprinkle with cheese; toss well. Season with salt and pepper to taste and serve immediately.
Nutrition Info:
Per : 488 cal; 30g total fat ( sat); chol; 75mg sodium; 44g carb; 0g fiber; 0g protein
Videos
Sources
Belgian waffle irons
Cooking.com
www.cooking.com
Customer Service
2850 Ocean Park Blvd., Suite 310
Santa Monica, CA 90405
800-663-8810

Cooking.com carries the following Belgian waffle irons featured in Cuisine at home's issue 65:

Krups Expert… $79.95

Krups 4-slice Wafflechef… $39.95

Waring Pro WMK300… $79.99

Proctor Silex Morning Baker… $29.99
QVC
www.qvc.com
888-345-5788

Hamilton Beach Flip 'n Fluff… $26.34
Amazon.com
Hamilton Beach Flip 'n Fluff… $13.42 - $29.95 -- Used, refurbished, and new
Table of Contents
Departments
4 TIPS
6 MEATBALLS FOR THE SOUL
Move over spaghetti; there's a new meatball in town. This delightful dinner is bound to make a regular appearance on your fall table.
12 NEWBURG POT PIE
This seafood pot pie is both elegant and homespun in every delicious bite.
16 DUELING DUMPLINGS
Which came first, the noodle dumpling or the puffy dumpling? Here's a chance to make both and decide for yourself.
22 FABULOUS FALL FEAST
Don't say goodbye to the grill just yet. Fire it up one more time for this special pork tenderloin dinner.
26 BELGIAN WAFFLE IRONS
No need to guess which waffle irons perform the best. There's one in your price range, guaranteed.
32 FLOUR
This pantry staple doesn't get much time in the spotlight. But an important ingredient like flour deserves a moment to shine. Its secrets are revealed here.
34 CHICKEN SALTIMBOCCA
40 BASIC RECIPES
These recipes for mashed potatoes, chicken broth, spiced nuts, and black beans will come in handy as you cook your way through the issue.
42 Q & A
44 MEDITERRANEAN PASTA SALAD
52 INDIAN SUMMER APPLE-TINI
This cocktail is a bit like biting into a crisp, juicy apple. But look out - this apple will bite back if you're not careful!
Feature
28 ALL DRESSED UP
How do you improve upon a perfect waffle? Serve it with ice cream and a terrific fruit-filled syrup.
48 SPICE OF LIFE
Fragrant with spices and sticky with icing, here's a cake you can really sink your teeth into.