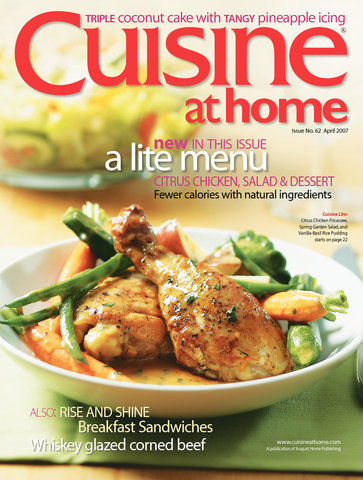 Subscribe Today!
Preview This Issue
Issue 62


April 2007
Online Extras
Recipes
Parmesan Orzo
Makes: 4
Total Time:
Prepare orzo according to package directions; drain and transfer to a bowl. Stir in olive oil, cheese, salt, and pepper.
Nutrition Info:
Per None: 236 cal; 6g total fat ( sat); chol; 127mg sodium; 36g carb; 2g fiber; 10g protein
Almond Orange Couscous
Makes: 4
Total Time:
Prepare as Directed:
Stir in:
Prepare couscous as on the package, using broth for the water and adding butter. Fluff with a fork. Stir in almonds and seasonings. Almond Orange Couscous shown here with Peperonata Shrimp.
Nutrition Info:
Per None: 204 cal; 7g total fat ( sat); chol; 321mg sodium; 30g carb; 3g fiber; 0g protein
Risi E Bisi Pilaf
Makes: 7
Total Time: 25
Saute in 1 T. Unsalted Butter and 1 T. Olive Oil:
Add and Saute:
Deglaze with:
Stir in; Cover and Cook:
Finish with:
Saute onion in butter and olive oil in a saute pan over medium-high heat until softened, about 5 minutes. Add rice and spaghetti; stir to coat with oil. Saute until rice is lightly toasted, about 3 minutes, stirring often to prevent sticking. Deglaze pan with wine; simmer until liquid has evaporated. Stir in broth and salt. Reduce heat to medium-low and cover pan with a lid that's been wrapped in a clean dish towel (it prevents moisture from dripping off the lid and into the rice). Simmer 18 - 20 minutes. Test rice for doneness; if still firm, cover and cook 2 - 3 more minutes. Finish off heat with peas and Parmesan; stir in prosciutto just before serving (its color fades when heated). Season with pepper.
Nutrition Info:
Per : 179 cal; 6g total fat ( sat); chol; 343mg sodium; 24g carb; 2g fiber; 0g protein
Videos
Learn how to debone a turkey breast and butterfly it for stuffing with this short technique video from the test kitchen of Cuisine at Home magazine. Our method is easy …
Sources
Kitchen timers
Salter Multi-Timer with Clock, Model #330
Cutlery and More
1-800-650-9866
www.cutleryandmore.com

Kitchen Universe
1-800-481-6679
www.kitchen-universe.com
Polder Electronic Clock, Timer & Stopwatch, Model #898-90
Fante's KitchenWare Shop
Order online, by mail, or by fax
FAX: 215-922-5723
1006 S. 9th St.
Philadelphia, PA 19147-4798
www.fantes.com

Cooking.Com
www.cooking.com
1-800-633-8810 Monday-Friday 7am-5pm, Saturday & Sunday 8:30am-4:30pm, PST
2850 Ocean Park Blvd., Suite 310
Santa Monica, CA 90405
CDN Quick Set/Direct Entry Timer & Clock, Model #TM23-S
Fante's KitchenWare Shop
Order online, by mail, or by fax
FAX: 215-922-5723
1006 S. 9th St.
Philadelphia, PA 19147-4798
www.fantes.com

Kitchen Kaboodle
1-800-366-0161 Monday-Friday 9:00am-5:00pm Pacific Time
www.kitchenkaboodle.com
Acu-Rite Digital Cooking Timer, Model #00654
Partshelf.com
1-630-596-0295 Weekdays 9am-6pm Central Time
www.partshelf.com

Cutlery and More
1-800-650-9866
www.cutleryandmore.com
Coconut Products
Pure Coconut Extract
flavorganics
www.flavorganics.com
973.334.8014
268 Doremus Avenue
Newark, NJ 07105
julie@flavorganics.com
Products include a large selection of organic extracts and syrups.
Website will lead consumers to retail markets that sell their products.

Spices Etc.
www.spicesetc.com
1-800-827-6373 8:00-5:30pm Eastern Standard Time Monday-Friday
P.O. Box 2088
Savannah, GA 31401
Along with one of the few spice companies that sells pure coconut flavoring, they also have a wide selection of herbs, spices, natural flavorings, gourmet dried mushrooms, spice blends, peppermills, specialty foods, teas, and gifts.
Pure Coconut Water
O.N.E. One Natural Experience
www.onenaturalexperience.com
1-888-663-2626 Jessica Vitale, P.R.
1100 Glendon Ave.
Los Angeles, CA 90024
This company sells 100% pure coconut water (the water from young coconuts) by the case (there are twelve 11-oz. ready-to-drink units per case.)
Coconut Oil
Spectrum Organics
www.spectrumorganics.com
Spectrum Organic Products Inc.
5341 Old Redwood Hwy., Suite 400
Petaluma, CA 94954
The website contains detailed information on all of their products, which includes a variety of organic fats and oils. There are two options for purchasing: online, or finding a retail market that sells their products using their store locator.
Table of Contents
Departments
4 TIPS AND TECHNIQUES
6 WHISKEY GLAZED CORNED BEEF
Tired of traditional boiled corned beef dinners? Try this BBQ'd version instead. With the side dishes, it's a St. Patty's Day feast.
12 CREOLE STUFFED SHRIMP WITH MUSTARD SAUCE, BRAISED GREENS & BLACK-EYED PEAS
This New Orleans-inspired dinner gives the phrase "Big Easy" a whole new meaning.
16 STUFFED TURKEY BREAST
Turkey isn't just for the holidays! Put a new spin on and old favorite with this technique.
22 CITRUS CHICKEN FRICASSEE WITH NEW POTATOES AND BABY VEGETABLES
This three-course menu proves that cutting down on fat and calories doesn't require cutting out great flavor in the process.
26 KITCHEN TIMERS
A reliable timer is critical for keeping busy cooks on track. Here's the buzz on their features and what to look for.
28 COCONUT
There's more to this fruit than what meets the eye. Shredded coconut and coconut milk are just the beginning.
30 BASIC TECHNIQUES
Read these helpful kitchen hints on how to check oil temperature, toast coconut, work with cabbage, and pound out meat.
32 STEAK MILANESE
38 CURRIED NEW POTATO AND PEA SOUP
42 QUESTIONS & ANSWERS
52 BREAKFAST BRUSCHETTA
Forget toast and jelly - cinnamon toast with berries and tangy cream is a delightful brunch "hors d'oeuvre" or light dessert.
Feature
44 BREAKFAST PANINI
Wake up and smell the sandwiches - these eye-opening recipes will get your day going.