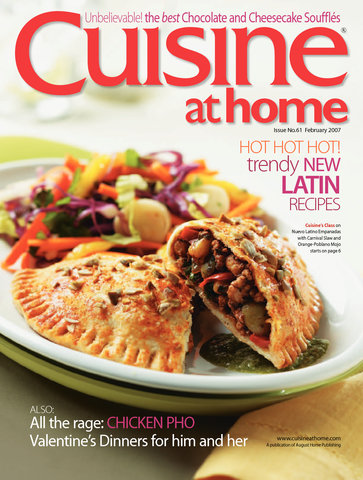 Subscribe Today!
Preview This Issue
Issue 61


February 2007
Online Extras
Recipes
Mexican Cucumber-Mango Salad
Makes: 6
Total Time:
Combine all ingredients in a mixing bowl; let stand at least 5 minutes. If waiting longer than that, add the cilantro just before serving.
Nutrition Info:
Per None: 33 cal; total fat ( sat); chol; 24mg sodium; 8g carb; 2g fiber; 0g protein
Jalapeño Sour Cream
Makes:
Total Time:
Stir together all ingredients and chill. (Can be made up to 1 day ahead.)
Nutrition Info:
Per : cal; total fat ( sat); chol; sodium; carb; fiber; protein
Grilled Summer Squash with Basil Oil
Makes: 8
Total Time:
Blanch, Shock, and Dry:
Puree; Drizzle in:
Toss in 3 T. Olive Oil; Grill:
Drizzle with:
Blanch basil in boiling water for 20 seconds. Shock in ice water and dry on paper towels. Puree blanched basil, drizzling in 1 cup olive oil while blender is running. Process until smooth. Toss squash with 3 T. olive oil to coat; season with salt and pepper. Grill over high heat for 3–4 min. on each side, or until tender. Transfer squash to a platter. Drizzle with basil oil and serve. Shown here with Dixie-Stuffed Chicken Legs.
Nutrition Info:
Per None: 154 cal; 14g total fat ( sat); chol; 221mg sodium; 7g carb; 2g fiber; 1g protein
Videos
Sources
Stovetop Smokers
Camerons Stovetop Smoker and Accessories
Camerons Professional Cookware
www.cameronsmoker.com
Tel: (719) 390-0505
Toll Free: (888) 563-0227
Nonstick Skillets
(800)663-8810
Circulon 2 Nonstick French Skillet (12?) Item #313690
Anolon Titanium Nonstick French Skillet (12?) Item #543143
Bed Bath & Beyond --
www.bedbathandbeyond.com
Tel: (800)462-3966
Calphalon Professional Hard-Anodized Nonstick Omelette Skillet (12?)
Cuisinart Chef's Classic Nonstick Hard-Anodized Skillet (11.5?)
(800)866-0086
Martha Stewart Everyday Nonstick Skillet (12?)
Asian Noodles
koaMart.com
www.koamart.com
info@koamart.com
Japanese and Korean-style noodles. Includes:
Cellophane noodles
Chinese wheat noodles
Dried udon noodles
Rice noodles
Soba noodles
Somen noodles
Asian Food Grocer
www.asianfoodgrocer.com
Toll Free: (888) 482-2742
Tel: (650) 873-7600 ext 107
Fax: (650) 871-9154
info@asianfoodgrocer.com
Buckwheat noodles
Dried udon noodles
Ramen noodles
Soba noodles
Somen noodles
Asianwok.com
www.asianwok.com
(800)300-6346
customerservice@asianwok.com
Chinese wheat noodles
Chinese wheat noodles
Dried soba noodles
Egg noodles
Rice noodles
Table of Contents
Departments
4 TIPS
6 TURKEY EMPANADAS WITH MUSHROOMS AND MOLE
See Latin and think "been there, done that?" These dishes will have you dancing to a new beat - maybe a samba or tango!
12 BROILED CITRUS SEAFOOD
In the mood for love? This fancy seafood feast "for her" is sure to win her heart. Helpful hint: Just add roses
16 STOVETOP SMOKING
If your home is "nonsmoking," make one exception for this cool technique. It's simple, yet the flavor will blow you away!
22 PHYLLO THAT STACKS UP.
Afraid of phyllo? Fear no more! Joanne Weir pairs simple techniques with Mediterranean flavors for knock-out appetizers.
26 CHOOSING A NONSTICK SKILLET
Need a nonstick skillet? Here are the facts that separate marketing hype from reality.
28 ASIAN NOODLES
Using your noodle just got easier! Here's a field guide to the wide array of noodles available at Asian markets.
34 PORK MEDALLIONS WITH CIDER SAUCE
40 AVOCADOS
This subtly-flavored fruit (that's right!) is so rich and creamy that you'd hardly know it's also really good for you.
44 BASIC TECHNIQUES
Here are four kitchen skills worth mastering. You'll use them time and again as you cook the recipes in this issue - and beyond!
46 QUESTIONS & ANSWERS
52 CITRUS CEVICHE
Feature
30 CHICKEN PHO
If chicken noodle soup is a little too Plain Jane for you, give this Vietnamese noodle soup a whirl. It's a delightful change of pace.
32 DAN DAN NOODLES
Here's a Chinese take on an Italian classic. Ground turkey replaces traditional pork for a light, yet immensely satisfying meal.