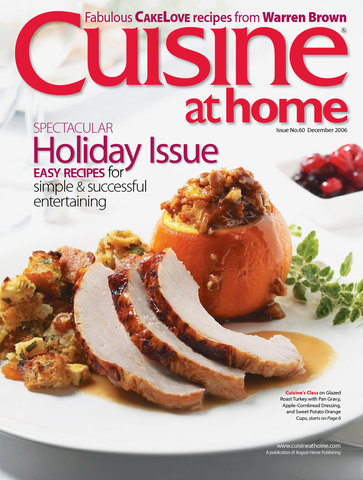 Subscribe Today!
Preview This Issue
Issue 60


December 2006
Online Extras
Recipes
Crunchy Feet
Makes:
Total Time:
These tiny cakes are Warren Brown's clever solution to utilize excess batter.
To make, use small brioche pans (or a muffin pan fitted with liners). Coat brioche pans liberally with nonstick-flour spray; fill each with about ¼ cup batter. Bake at 350° for 15 minutes, until toothpick comes out clean. Let cool 3 minutes, then unmold. The crunchy feet tend to stick in the brioche pans, so Warren employs his "slam" technique for unmolding: Cover the baking sheet and brioche pans with the bottom of a second baking sheet, invert, and slam both pans onto the counter. The brioche pans should lift right off the crunchy feet.
Nutrition Info:
Per : cal; total fat ( sat); chol; sodium; carb; fiber; protein
Videos
Sources
Trumpet Mushrooms
White trumpet mushrooms
Foods in Season
www.foodsinseason.com
866.767.2464
Food processors
800.663.8810
KitchenAid Food Processor, White (KFP750)
Item #310190 (white; also available in chrome, red, black, and pink)

KitchenAid Ultra Wide Mouth Food Processor, Onyx Black (KFPW760OB) Item
310183 (black; also available in white)
Cuisinart Classic Pro Custom 11 Item #101604 (white)

Cuisinart Prep 11 Plus Item #167068 (chrome-look; also available in black, red, and white)
Table of Contents
Departments
4 TIPS
6 TURKEY DINNER 101
No time to risk it -- from tender glazed turkey to perfect pan gravy and sides, here's a traditional Thanksgiving dinner done right.
14 EGGPLANT ROLLATINI
Who says meat is a must-have? This meatless marvel satisfies any appetite, even if you're not crazy about eggplant!
18 ROASTING NEW YORK STRIP
This isn't your typical roast -- this is steak in the oven! Cooked to perfection and served with a traditional gravy, what's not to love?
26 FOOD PROCESSORS
When it comes to buying a food processor, don't take chances. Read this article first!
28 CRANBERRIES
Everything you ever wanted to know about these little crimson jewels, from how they are harvested to how to use them.
32 BASIC TECHNIQUES
From opening oysters to melting chocolate, we can all use a little help in the kitchen. Here are four basic techniques to make cooking easier.
34 PAN-ROASTED OYSTER STEW
40 HORS D'OEUVRES
Why make dinner when you can have these sensational starters? With just a little effort, these four appetizers are sure to impress!
44 Q&A
46 DELECTABLE CAKES
One look at these modern pound cakes makes it easy to see why Warren Brown is stirring things up in the dessert world.
52 RUBY SLIPPERS
Everyone needs a special holiday drink. These refreshing bubbles of red are just the thing to ring in the New Year.
Feature
23 STUFFED BAKED POTATOES
Who doesn't like stuffed baked potatoes? Here are three recipes to choose from, ranging from the traditional to the sublime.
30 CRANBERRY RELISH
Cooked cranberry sauce is good, but this fresh, uncooked relish with jicama, apples, and pecans really makes the berries pop!
31 CRANBERRY SHORTCAKE
So many flavors, paired together perfectly. Ginger shortcakes, cranberry-pear compote, and orange cream. All I can say is, "WOW!"