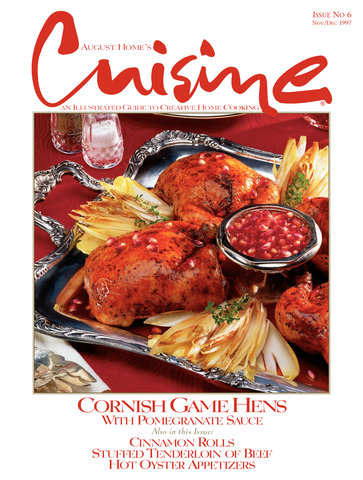 Subscribe Today!
Preview This Issue
Issue 6


December 1997
Table of Contents
Departments
4 TIPS AND TECHNIQUES
16 12 GIFT IDEAS FOR COOKS
18 LACE COOKIES
They're cookies and more. Shape them and they become little desserts or garnishes.
39 WHAT'S HAPPENING IN FOOD
40 QUESTIONS & ANSWERS
42 FRUIT TART
No matter what fruit you use, this tart is a winner. And don't worry, it only looks hard.
44 LACE COOKIE TARTS
Feature
6 TENDERLOIN OF BEEF
You can't miss with this festive tenderloin filled with spinach and mushrooms.
12 OYSTERS
Even if you're not an oyster fan, you'll love these flavorful and colorful hot appetizers.
15 BÉCHAMEL SAUCE
Number 2 in my series on the Mother Sauces. It's simple to prepare and very versatile.
22 CINNAMON ROLLS
Three sweet rolls from one sweet dough recipe. They're special when you get to eat them warm.
26 CORNISH GAME HENS
Stuffed with wild rice & cornbread and served with pomegranate sauce.
32 POACHED PEAR SALAD
Pears, port wine, blue cheese -- an exceptional winter salad threesome.
34 MAYTAG BLUE CHEESE
You won't believe where and how some of the best blue cheese is made.
36 RED POTATO APPETIZERS
The simple red potato makes a tasty basis for fun appetizers.