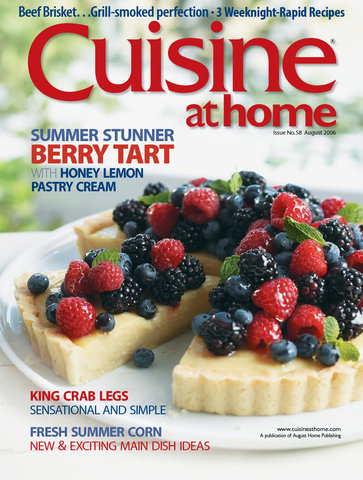 Subscribe Today!
Preview This Issue
Issue 58


August 2006
Online Extras
Recipes
Cheryl's Pesto
Makes:
Total Time:
Process; Drizzle in:
Add:
Process basil, nuts, and garlic in a food processor until finely chopped. With the processor still running, drizzle in the oil. Add cheeses, salt, and several grinds of pepper; process again until combined. Taste and adjust seasonings. To store, spoon the pesto into a bowl, smooth the top, and cover with a thin film of olive oil. Cover the bowl and chill until needed. The pesto will keep this way for several weeks.
Nutrition Info:
Per None: cal; total fat ( sat); chol; sodium; carb; fiber; protein
Videos
Sources
King Crab Legs
Fisherman's Express
Red King Crab Legs
Price is subject to size, variety, and special promotions offered by Fisherman's Express
Turners
Fante's Kitchen Wares Shop
LamsonSharp Chef's Slotted Turner (3 × 6?)
Item #98717
Chef's Resource
LamsonSharp
LamsonSharp Fish/Asparagus Turner (8 × 3?)
[Item
39567](https://store.lamsonsharp.com/catalog/product_info.php?products_id=222)
Target
Kitchen Aid Fish Turner
Catalog #12064124
Coffee Beans
Peerless Coffee & Tea
Peet's Coffee & Tea
The Coffee Fool
Table of Contents
Departments
4 TIPS
6 THE ALASKAN KING
The king of the seas makes a regal addition to a summer dinner. You won't believe how easy crab legs are to make at home.
12 BRICKED CORNISH HEN
Have a brick handy? Use it on a Cornish game hen. This little bird makes the perfect amount for two -- and it cooks in a flash.
16 SMOKING BRISKET
You don't have to be a BBQ professional to make beef brisket this incredible. But everyone who tastes it will think you are!
20 SATURDAY SUMMER STRATA
The Jamisons show us how to make an almost effortless weekend breakfast that's worth getting out of bed for.
24 MEET THE TURNERS
Turners come in a vast array of shapes, sizes, and materials -- learn what to look for.
26 COFFEE
Get the facts about your morning brew: how to buy beans, the best way to store them, and what it takes to brew a great cup.
30 BASIC TECHNIQUES
Like a few good kitchen tools, a few kitchen tips can make a big difference in the way you cook. Check out these helpful hints.
32 PORK CHOPS WITH BLACKBERRY SAUCE
38 SUMMER WRAPS
Sure, you've seen wraps before, but not like these! Here are four new interpretations that are bound to become favorites.
40 Q&A
52 ICED IRISH COFFEE
Keep sultry summer nights at bay with this icy, chocolate-laced version of a classic.
Feature
28 CAPPUCCINO MOUSSE
Coffee and dessert -- it's a classic pairing. But how about coffee as the dessert? Try this mousse to see how that idea comes to life.
42 TAMALE CORN CAKES
The only strike against good tamales is the time it takes to make them. This recipe has the flavor and festivity without all the work.
45 CORN FLAN WITH SPICY SHRIMP
Elegant and easy -- how often can you say that about a main dish? This interesting take on flan makes an ideal summer entree.
48 SUMMER FRUIT TART
Talk about a head-turner! Piled with the season's best berries, this uniquely flavored tart will make a lasting impression at your next party.