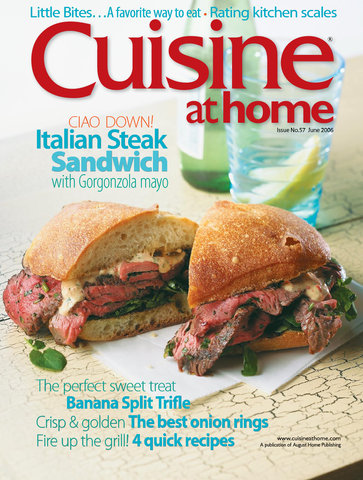 Subscribe Today!
Preview This Issue
Issue 57


June 2006
Online Extras
Recipes
Buttery Pine Nuts
Makes:
Total Time:
Combine ingredients in a nonstick saute pan over medium heat. As butter melts, gently swirl the pan to roll the pine nuts around. Cook until evenly golden brown, about 5 minutes.
Transfer nuts to a plate lined with paper towels. Add more salt, if desired; let cool to room temperature.
Nutrition Info:
Per : cal; total fat ( sat); chol; sodium; carb; fiber; protein
Videos
Sources
Table of Contents
Departments
4 TIPS
6 LITTLE BITES
With these show-stopping appetizers, all you need at your next party are a few cocktails and plenty of friends.
12 SPRING ROLL SALAD
Want to know what a "deconstructed" spring roll tastes like? Try this unique and refreshing salad to find out.
16 THE ART OF ROULADES
It's a fancy name, but the truth is, these stuffed and rolled cutlets are easy to make. Try them with either pork or chicken.
22 THE SCHLOW BURGER
Holy cow -- it's a Schlow burger! Crispy onions and creamy horseradish sauce elevate this hamburger to new heights.
26 WEIGHING KITCHEN SCALES
After extensive testing, we found one brand far outweighed the rest.
28 ONIONS
Where would we be without onions? Don't take this kitchen staple for granted -- they're worth their weight in gold.
32 BASIC TECHNIQUES
Learn the fundamentals of good cooking here as you char peppers, sear steak, roast tomatoes, and cook a whole chicken to perfection.
34 STRAWBERRY "CHEESECAKE" PANCAKES
40 QUICK GRILLS
Brush off the grill and get ready for another season of outdoor cooking with these four simple, yet interesting recipes.
42 Q&A
52 HONEYDEW 'RITA
Bring on summer! This sweet cocktail is sure to put a little olé in your next fiesta!
Feature
30 ONION RINGS
I can't think of anything I like more than a big pile of hot onion rings. This recipe sets the standard for them everywhere.
44 GRILLED STEAK SANDWICHES
Packed with flavor and a cinch to make, you'll find yourself coming back to these steak sandwiches over and over again.
48 TIMELESS TRIFLE
Feel the need to recapture your youth? Try these trifles -- they taste almost like banana splits from the corner drugstore!