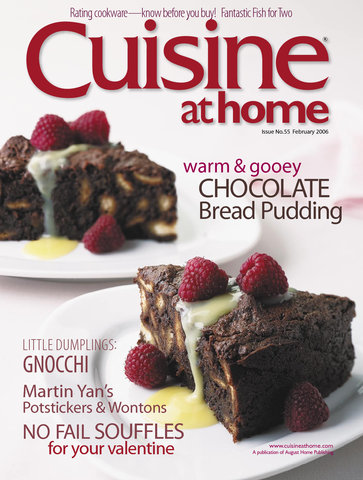 Subscribe Today!
Preview This Issue
Issue 55


February 2006
Online Extras
Recipes
Cooked Dried Beans
Makes:
Total Time:
Sort and Soak:
Drain, Rinse, and Cook:
Sort beans to remove pebbles or dirt. Rinse well. Soak in a large pot with cold water to cover by 2". Cover and chill 4–12 hours. Drain and rinse soaked beans. Place beans in pot, add 6 cups cold water, and bring to a boil. Reduce heat and simmer 1–1 1/2 hours, partially covered. Add more water during cooking if needed. Test a few beans for tenderness after1 hour. Drain and chill up to 3 days.
Nutrition Info:
Per None: cal; total fat ( sat); chol; sodium; carb; fiber; protein
Videos
Learn how to make homemade gnocchi without a ricer—watch this short technique video from the test kitchen of Cuisine at Home magazine. The trick is to use minimal flour …
Learn how to use phyllo dough with this technique video from the test kitchen of Cuisine at Home magazine. We cover triangle folding for spanakopita, how to make phyllo cups …
Sources
Gnocchi Boards
A gnocchi board is the traditional Italian way to hand form potato dumplings.
Kitchen Emporium
www.kitchenemporium.com
888.858.7920
Gnocchi Board
Code #HI14809
Cookware
Chef's Resource
www.chefsresource.com
866.765.2433
All-Clad Stainless Cookware
Calphalon Contemporary Stainless Cookware
Cooking.com
www.cooking.com
800.663.8810
Cuisinart Chef's Classic Stainless
Sur La Table
www.surlatable.com
800.243.0852
Sur La Table Stainless Cookware
Table of Contents
Departments
4 TIPS
6 SOUFFLÉ SIMPLIFIED
This new year, resolve to conquer your kitchen fears and make a soufflé. You'll be pleasantly surprised at how easy it is.
12 HALIBUT IN SPANISH GARLIC-SHRIMP SAUCE WITH SOFRITO COLLARD GREENS
Has the holiday food frenzy taken its toll? Are you ready for a new way of eating? Get yourself back on track with these fish dishes.
16 NO-FEAR GNOCCHI
An Italian classic that's sure to blow plain pasta out of the water. Give it a try -- you'll never go back to boxed versions again.
20 GNOCCHI SAUCES
These four quick sauces were designed for gnocchi, but they're great on pasta too. You're thirty minutes away from a great meal!
24 MARTIN YAN: DUMPLING DUO
The ultimate teacher of Asian cooking shows us how to make dumplings that will knock your socks off!
30 CHOOSING THE RIGHT COOKWARE
When it comes to pots and pans, there are a lot of choices -- find out what's important.
32 PHYLLO
Learn the ins and outs of working with delicate sheets of phyllo dough. Then use your new skills to make baklava!
36 BASIC CUISINE
Freezing, macerating, and cooking fish and potatoes -- four cooking fundamentals that will improve your life in the kitchen.
38 CHILI CHICKEN SKEWERS WITH CILANTRO PESTO AND BANANA-SWEET POTATO MASH
44 Q&A
52 CINNAMON SUGAR PHYLLO NEST WITH CARAMELIZED PEARS
These crispy nests topped with ice cream and pear sauce just might remind you of pie à la mode -- without all the calories!
Feature
22 PORK CHOPS OSSO BUCO
It's not the traditional cut of meat, but these chops don't skimp on flavor. The aroma alone is enough to entice your dinner guests.
34 PASTRY PERFECTION
Crammed with nuts and spices then doused with honey, this classic pastry is head and shoulders above store-bought varieties.
46 BRAZILIAN BLACK BEAN SOUP
Spicy, rich, and filling, this is a soup that's made for days when the snow is flying. It's so good, you may want winter to last a little longer.
48 CHOCOLATE BREAD PUDDING
Just when you thought you'd never eat good bread pudding in your life, this recipe comes along. Try it. You won't be sorry.