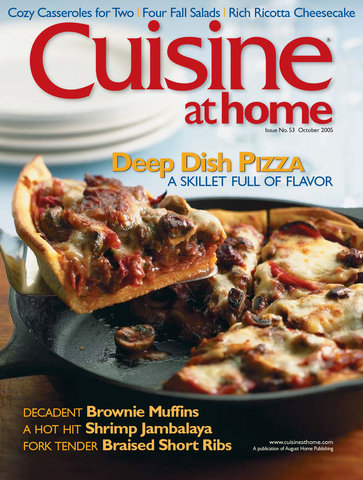 Subscribe Today!
Preview This Issue
Issue 53


October 2005
Online Extras
Recipes
Roasted Tomato Sauce
Makes: 20
Total Time: 50
Combine:
Toss with:
Stir in:
Preheat oven to 450°. Combine first 6 ingredients in a large casserole dish. Toss with olive oil and roast 35 - 40 minutes, or until tomatoes have softened. Remove from oven and mash with a potato masher, keeping tomatoes a bit chunky. Stir in basil.
Nutrition Info:
Per 1/4 cup: 73 cal; 6g total fat ( sat); chol; 235mg sodium; 5g carb; 1g fiber; 1g protein
Salty Candied Hazelnuts
Makes:
Total Time: 15 minutes
Rinse and Drain:
Combine with:
Preheat oven to 400° and coat a baking sheet with nonstick spray. Rinse hazelnuts under cold water and drain. Combine hazelnuts (while still wet) with sugar and salt so it forms a gummy paste. Spread over baking sheet and bake 8–10 minutes, or until brown and bubbly. Stir nuts and cool to room temperature.
Nutrition Info:
Per 2 T.1: 149 cal; 9g total fat ( sat); chol; 480mg sodium; 17g carb; 1g fiber; 2g protein
Videos
Sources
Table of Contents
Departments
4 TIPS
6 DEEP DISH PIZZA
Homemade deep dish pizza tastes so good that you may never go back to pizza parlor versions again. Yes, it takes some time, but it's worth it.
12 CHICKEN AND SAUSAGE CASSEROLE
Casseroles for two people -- without leftovers? It really is possible, and this recipe proves it.
16 THE BASICS BEHIND BRAISING
We've braised before, but this is one technique that's worth doing again (and again!).
22 LIDIA BASTIANICH: PORK CHOPS CAPRICCIOSA
Chef Lidia Bastianich proves that you don't have to spend a lot of time in the kitchen to turn out a beautiful, delicious meal.
26 DUTCH OVENS
A good Dutch oven is a kitchen necessity, but do you know what to look for? Wonder no more!
28 CHOCOLATE CHIPS
Here's the lowdown on semisweet, milk, and white chocolate chips. There's more to these morsels than you'd think.
32 BASIC CUISINE
Just the facts -- simple ways to get the most from sweating vegetables, day-old bread, dry yeast, and fresh mushrooms.
34 JUST RIGHT JAMBALAYA
40 FALL SALADS
The usual salad bar standbys have a new look for fall! Simple changes make all the difference.
42 Q&A
52 TURTLE TERRINE
A dessert with something for everyone -- ice cream, brownies, and pecans!
Feature
30 GUITTARD BROWNIE MUFFINS
Can you ever have too much chocolate? I don't think so, but these muffins push the envelope -- their over-the-top flavor comes from two types of chips.
44 DUCK AT THE MARKET
Toying with expanding your poultry horizons? Then duck is your bird. Read this article for buying tips, then give these two easy recipes a whirl.
48 RICOTTA CHEESECAKE
Looking for a rich, creamy cheesecake that doesn't weigh you down? Your search is over. Trust me, you may never look at another cheesecake recipe again.