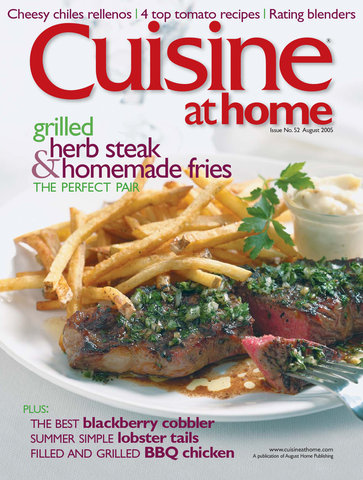 Subscribe Today!
Preview This Issue
Issue 52


August 2005
Online Extras
Videos
Learn how to cut a mango with this short technique video from the test kitchen of Cuisine at Home magazine. We'll show you how to slice or dice this …
Learn how to peel tomatoes with this short technique video from the test kitchen of Cuisine at Home magazine. The blanching method can also be used to peel peaches, nectarines …
Sources
Table of Contents
Departments
4 TIPS
6 STUFFED CHICKEN LEGS
This technique puts a whole new spin on grilled chicken. Picnics will never be the same!
12 GRILLED LOBSTER TAILS WITH MAQUE CHOUX AND PARSLEY BUTTER
Sure, they're expensive, but lobster tails are just meant to be grilled. This is a meal that's worth every penny -- and then some.
16 CHILES RELLENOS AT HOME
I guarantee that restaurant chiles rellenos don't hold a candle to these. You've got to make them!
22 THE GREATEST GRILLED CHEESE SANDWICHES IN AMERICA
Can you really improve the classic grilled cheese sandwich? Try these two recipes from national contest winners and judge for yourself.
26 BLENDERS
With summer in full swing, it's time to break out the blender. If you're in the market for a new machine, read this article before investing.
28 PEACHES
You've waited all year for fresh, tree-ripened peaches! Here are a few tips for picking out the best of the bushel -- get them now because they won't last forever.
32 BASIC CUISINE
Rendering bacon, hulling strawberries, trimming tenderloins, and peeling hard-cooked eggs -- here are all the nitty-gritty details.
34 SPICED PORK TENDERLOINS WITH SUMMER RELISH
40 IN THE RED: FRESH TOMATOES
Giving away your surplus tomatoes? Wait! You need to make these four recipes first.
42 Q&A
52 FUZZY MELBA
Feature
30 PEACH TRIFLE
There's nothing trivial about this trifle. Perfectly ripe peaches, pound cake, and raspberry sauce partner up for an elegant, easy dessert.
44 STEAK AND FRIES
Quite possibly the world's most wonderful meal. Sure, the drive-thru is easier, but go the extra mile and make the fries yourself. You won't be sorry.
48 CRAZY FOR COBBLER
Blackberries, sugar, coconut, pecans, and butter -- need I say more? I don't think so.