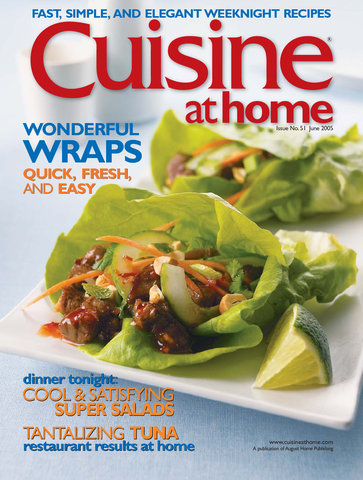 Subscribe Today!
Preview This Issue
Issue 51


June 2005
Online Extras
Videos
Learn how to supreme an orange with this short video from the test kitchen of Cuisine at Home magazine. You can cut segments of any citrus fruit with no membrane …
Sources
Cutting Boards
J.K. Adams Co.
12? × 12? End-grain Board
Item #CNK-1212-N

16? × 16? End-grain Board
Item #CNK-1616-N

12? × 12? Edge-grain Board Pedestal Block
Item #PED-1212

16? × 12? Flat-grain Pro-Classic Board
Item #PRO-1612
Sur La Table
8? × 6? board
Item #396184

12? × 9? board
Item #396192

15? × 11?board
Item #396200

18? × 13? board
Item #396218

Orange
Item #450890

Green
Item #450924

Red
Item #222224

White
Item #172767
Totally Bamboo
Tonga Light Cutting Board, 11.5? × 11.5? board
[Item
20-1500](http://www.totallybamboo.com/index.cfm?fuseaction=product.display&product_id=132)
Peppercorns and Mill
The Spice House
Unicorn Peppermills by Tom David, Inc.
Table of Contents
Departments
4 TIPS
10 CHOOSING & COOKING FRESH TUNA
There's nothing complicated about buying fresh tuna and cooking it to perfection. Here's your guide to the fish dinner of your dreams.
16 PASTA & MUSSELS
Don't shy away from cooking mussels at home. This simple pasta is worth branching out for!
24 CHRIS SCHLESINGER
Get the goods on grilling shrimp from the man who does it so well. Chris isn't shy about flavors so be prepared for quite a mouthful!
28 CUTTING BOARDS: WOOD VS. PLASTIC
It's the burning question we all have: What type of cutting board is best for my kitchen? This article will help you sort it all out so you can make an informed decision.
30 BASIC CUISINE
All you've ever wanted to know about getting mussels ready for cooking, pitting avocados, preparing asparagus, and using gelatin.
32 BACON-WRAPPED TURKEY FILET MIGNONS
38 FAB CRAB
Is crab a convenience food? If it's pasteurized crabmeat, it sure is! These three recipes put this luxurious ingredient in the spotlight.
40 Q&A
42 PEPPERCORNS
It's easy to take peppercorns for granted. But this article illustrates just how interesting and complex the spice can be.
47 JELLY ROLL
Airy and light, this lemon jelly roll with strawberries and cream is the ultimate in springtime desserts.
52 LEMON CAKE BITES
Feature
6 WRAP & ROLL: LETTUCE WRAPS
These little packets of flavor are the party food of the year! Make them yourself and see how easy it is to have restaurant-style food in your own home.
20 SUPER SALADS
This is prime salad season, but give your old stand-bys a break -- these two are something else.