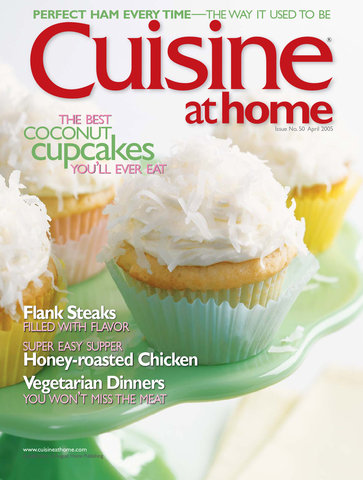 Subscribe Today!
Preview This Issue
Issue 50


April 2005
Online Extras
Recipes
Sugared Pistachios
Makes: 1 cup
Total Time: 10 minutes
Melt butter in a nonstick skillet over medium heat. Add pistachios, sugar, and cinnamon; toss to combine. Saute until nuts are coated with sugar and smell toasted, tossing often, about 5 minutes. Spread nuts out on a baking sheet to cool (not all the sugar will stick to the nuts. This is okay.). Coarsely chop, then sprinkle on frosted cupcakes if desired.
Nutrition Info:
Per : cal; total fat ( sat); chol; sodium; carb; fiber; protein
Swiss Cheese Fondue
Makes: 6
Total Time:
Toss Together:
Simmer; Remove Garlic, Add Cheese:
Add:
Toss cheeses and cornstarch together in a mixing bowl. Simmer wine, lemon juice, and garlic in a large, heavy saucepan over medium heat—bubbles should just break the surface. Remove garlic and discard. Add handfuls (about 1 cup) of cheese to the simmering wine, stirring with a wooden spoon. Make sure the cheese has nearly melted before adding more. Increase heat slightly if cheese doesn't seem to want to melt, but don't boil.
Add brandy, pepper, and nutmeg to melted cheese. Transfer to fondue pot over medium flame (it can bubble gently, but don't boil). To eat, spear dippers on forks and swirl in the fondue (stir to the bottom to prevent separating).
Dippers: Allow 1 cup bite-size bread cubes per person. There should be crust on each cube so it won't fall apart in the cheese. Tart apples (Granny Smith) and firm pears (Bosc) are good dippers—figure one fruit per person. Slice just before serving; dip in lemon water to prevent browning. Use a variety of blanched and raw vegetables for color and texture. Plan on serving about ¼ lb. (about 2 cups) prepared vegetables for each person.
Nutrition Info:
Per per 1/6th of recipe: 300 cal; 20g total fat ( sat); chol; 169mg sodium; 3g carb; 0g fiber; 0g protein
Stuffed Artichokes
Makes: 4
Total Time: 60
Combine in Food Processor:
Slowly Drizzle in:
Prepare and Steam for Stuffing:
Saute Together:
Combine with:
Stuff 4 Steamed Artichokes with:
Drizzle each with:
Top each with:
Combine egg, garlic, lemon juice, and salt in bowl of food processor. Process for 10 seconds. Slowly drizzle in oil through tube. As the oil is added, the sauce becomes as thick as mayonnaise. To prepare artichokes, cut off the stem. You can also break off the stem which pulls out any unwanted fibers. Cut off the top third of the artichoke. There's no need to remove the sharp points. Force leaves apart at center. With a melon baller, scrape out fuzzy choke and discard. Place artichokes in a large non-reactive bowl filled with cold water and 2 T. lemon juice. In a large pot, bring 2" of water to a boil. Place the artichokes with the stem section facing down. This prevents them from rolling. Cover and steam them for about 10 minutes before you check them. If you need to, add a little water to prevent scorching. Test for doneness by sticking a fork or skewer into the stem end. The tines should go into the stem easily when it's done. Remove artichokes from the pot and let them drain, upside-down, for a minute or two. Saute crumbled sausage in a pan over medium heat. Press garlic over the cooked sausage. Cook 1 minute and then drain fat. Make sure the sausage crumbles are small — they'll be easier to distribute in the leaves. Combine with crumbs, cheese, parsley, salt and pepper. Pull open the cooked artichokes. Stuff the center cavity and leaves with crumb mixture. Try to insert mixture into every leaf. Place them on a foil "boat" on a baking tray. Drizzle with 1 Tbsp. oil and bake in a 350° oven for 15–20 min., or till warmed through. Remove the tray from the oven and turn on your broiler. Top each artichoke with 1 Tbsp. of Aioli Sauce. Broil for 3-5 minutes — just enough to add a few hints of rich, brown color to the aioli.
Nutrition Info:
Per None: 586 cal; 37g total fat ( sat); chol; 725mg sodium; 50g carb; 0g fiber; 0g protein
Videos
Sources
Table of Contents
Departments
4 TIPS
6 VERTICAL ROASTING
I admit, I was skeptical about vertical roasting. But juicy, tender chicken made me a believer -- you really can teach an old dog new tricks!
10 MARGARET FOX: HUEVOS RANCHEROS
Margaret's unique poaching method puts a new spin on this traditional Mexican brunch dish. A lot of it is make-ahead too -- bonus!
14 POWER JUICERS
Making an investment in a power juicer isn't for everyone. But if you're thirsty for nutritious, fresh juice, read this article before buying one.
16 STUFFING FLANK STEAK
With a few simple steps, an inexpensive cut of beef becomes a dinner worthy of company!
22 MUSHROOM RAGÙ WITH SOFT POLENTA
Traditional Italian ragù is loaded with meat -- but it doesn't have to be. This vegetarian recipe will satisfy the carnivore in all of us.
26 PARMESAN CHEESE
We've come a long way since the green can of powdery cheese, but all the varieties of Parmesan make choosing hard. Here's what you need to know about buying it.
30 BASIC CUISINE
Expand your kitchen horizons as you learn about bouquet garni, toasting nuts, creaming butter, and tying a roast with surgeon's knots.
32 FRENCH ONION SALISBURY STEAK
38 Q&A
46 PLAY IT AGAIN ... HAM
It's inevitable -- bake a ham, then deal with the leftovers. So here are a few suggestions for stepping outside the "sandwich box."
52 BUTTERMILK CITRUS SHAKES
Feature
28 SIMPLE CAESAR SALAD
Parmesan takes center stage in this revved up Caesar salad. You'll love the eggless dressing, crispy prosciutto, and cool croutons!
40 OUR FAVORITE DINNER ROLLS
Yeast-intimidated cooks, have no fear! Once you pull these light, fluffy rolls from the oven, you'll never be afraid of bread baking again.
43 HAM THE WAY IT SHOULD BE
Valuable tips for buying, baking, glazing, and carving the perfect ham.
45 RUM AND COKE-GLAZED HAM
Spiral-sliced hams may be convenient, but for flavor, they've got nothing on this glazed beauty!
48 BABY CAKES
Why should kids have all the fun? "Big kids" like cupcakes too. These two recipes are tailored to adult tastes while still maintaining kid-friendly criteria -- like lots of frosting!