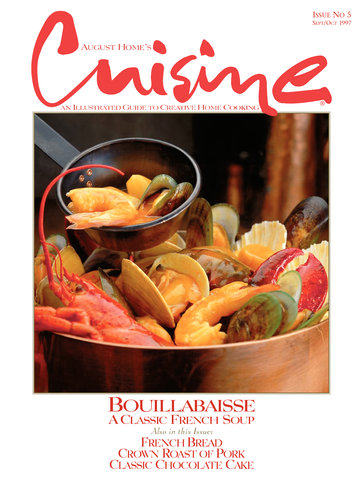 Subscribe Today!
Preview This Issue
Issue 5


October 1997
Table of Contents
Departments
4 TIPS AND TECHNIQUES
11 SWEET POTATOE TOURNE
18 BROWN SAUCE
Learn the fundamental techniques of making a "true" brown sauce.
22 SELECTING A HAND MIXER
29 WHAT'S HAPPENING IN FOOD
40 QUESTIONS & ANSWERS
42 CHOCOLATE CAKE
Simply the best chocolate cake you've ever tasted. And good-looking too!
44 SUGARED FLOWERS
Feature
6 CROWN ROAST OF PORK
Pork isn't what it used to be. This fancy crown is tender and just plain good-lookin'.
12 TEA PRIMER
Tea is hot! And you'll find this basic tea primer just right to get you started.
14 SQUASH
Winter squash shouldn't collect dust anywhere. These babies make great soup, salads, and sides.
24 CRANBERRY HARVEST
I've never seen so much red. Harvesting cranberries is big, big business.
26 STEAMED CRANBERRY PUDDING WITH PISTACHIO CREAM
This fall treat is unusual yet elegant. Keep this recipe for the holidays.
28 CRANBERRY SAUCE & CHUTNEY
You don't even need the turkey to serve these two flavorful cranberry dishes.
30 FRENCH BREAD
Understand the art and professional secrets of making French bread.
34 BOUILLABAISSE
Saffron, fennel, and fresh fish stock are the secrets to a great bouillabaisse.