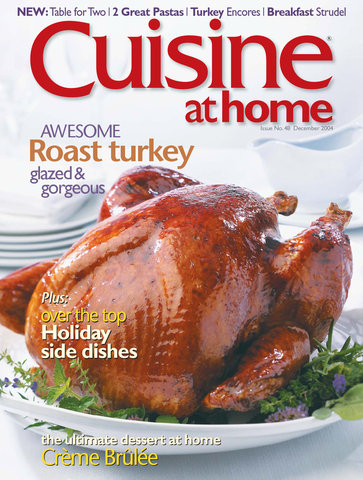 Subscribe Today!
Preview This Issue
Issue 48


December 2004
Online Extras
Recipes
Buttermilk Biscuits
Makes: 16
Total Time: 35
Combine:
Cut in:
Stir in:
Sift over Work Surface and Dough:
Cut Biscuits with a 2 1/2
Brush with:
Heat oven to 475°. Spray two 8" round pans with cooking spray. Combine flours, sugar, salt, baking powder, and soda. Cut the shortening into the flour with a pastry blender mixture until shortening is no larger than the size of a big pea. Stir in the buttermilk completely with a wooden spoon. Let stand 2–3 minutes. The dough will be very wet. Sift 1/4 cup all-purpose flour onto the work surface. "Turn out" the dough onto the floured work surface. Sift remaining flour over dough. Flour hands. Turn and fold dough over several times in flour and gently pat to 3/4" thick. Cut biscuits: Using a floured 2 1/2" cutter, cut dough into rounds — don't twist! With a spatula, place cut biscuits into pans (6 per pan). Gently reroll scraps. Don't overwork the dough or add additional flour. Brush tops of biscuits with melted butter. Bake 15 minutes, or until tops are golden. Serve right away. I guarantee, these biscuits will make you go "white-eyed!"
Nutrition Info:
Per None: 171 cal; 6g total fat ( sat); chol; 411mg sodium; 0g carb; 0g fiber; 0g protein
Cucumber-Peanut Salad
Makes: 4
Total Time: 10 minutes
Combine cucumber, onion, vinegar, sugar, pepper flakes, and salt in a bowl. Let marinate at least 15 minutes at room temperature.
Garnish salad with peanuts just before serving.
Nutrition Info:
Per per 1/4 cup serving: 99 cal; 7g total fat ( sat); chol; 116mg sodium; 7g carb; 2g fiber; protein
Northern Cornbread
Makes: 10
Total Time: 35
Combine the Dry Ingredients:
Combine the Wet Ingredients:
Preheat a lightly greased skillet in a 450° oven.
Combine dry ingredients into a mixing bowl, and mix thoroughly with a spoon. Beat the egg in a separate bowl. Combine and add the other liquid ingredients and the sugar. Stir with a whisk until they're well mixed.
Combine dry and wet ingredients. Stir well with a spoon, but be careful not to overmix.
Carefully remove the hot skillet from the oven. Quickly pour in the batter and get it into the oven. Bake at 450° for 25 minutes.
Nutrition Info:
Per per serving: 209 cal; 6g total fat ( sat); chol; 367mg sodium; 0g carb; 0g fiber; 0g protein
Cranberry Chutney
Makes: 8
Total Time: 45
Saute in 1 T. Olive Oil:
Add and Simmer:
Add and Simmer:
Saute onions and garlic in 1 T. olive oil over medium-high heat until onions are translucent, about 5 minutes. Add vinegars, lime juice, and sugar. Cook until the sugar dissolves, about 5 minutes. Add fruits, gingerroot, seasonings, and lime zest. Reduce heat, simmer and stir for 15–20 minutes.
Nutrition Info:
Per per 1/4 cup serving: 112 cal; 1g total fat ( sat); chol; 77mg sodium; 26g carb; 2g fiber; protein
Videos
Tempering
Using a Kitchen Torch
Braiding Puff Pastry
Sources
Table of Contents
Departments
4 TIPS
6 A HOLIDAY CLASSIC: GLAZED AND ROASTED TURKEY
Picture-perfect is one way to describe this bird, but it actually tastes as good as it looks.
16 STUFFED PORK LOIN
Need a great alternative for your holiday table? This lean, succulent pork loin stuffed with flavorful polenta dressing can stand in proudly.
22 SESAME TUNA
Cooking for two can be tough, but we're up to the challenge. This tuna dish is easy, elegant, and efficient -- no leftovers!
26 MARY ANN ESPOSITO
Author, host, and creator of her own cooking show, Mary Ann gives you two good reasons to bump up your carb intake!
30 GOT TURKEY?
A sandwich, entree, and two soups -- made with leftover turkey!
32 BASIC CUISINE
How do you chop, dice, and mince? Or use a water bath? We'll show you, along with how to reduce liquids and use an egg wash.
34 SUGAR
How sweet it is!
36 THERMOMETERS
No more "it looks done" temperature readings. These thermometers really perform.
38 BREAKFAST STRUDEL
44 Q&A
52 CHAI EGGNOG
All the comforts of home in a mug, flavored with spices from around the world.
Feature
12 TOPPED OFF SIDES
Tired of rerun side dishes at every get-together? The twist on these familiar favorites is the toppings.
46 THE BASICS OF BRÛLÉE
We take this restaurant favorite and make it lighter-tasting -- a perfect end to a big holiday meal.