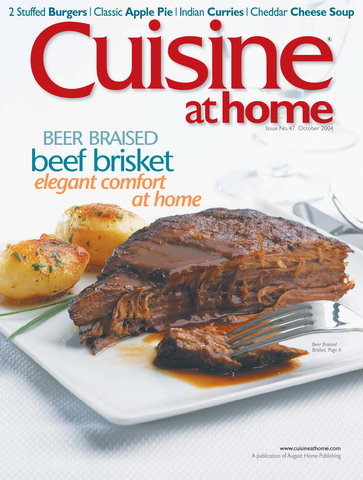 Subscribe Today!
Preview This Issue
Issue 47


October 2004
Online Extras
Recipes
Italian Panini
Makes: 4
Total Time: 30
Blend in a Food Processor:
Stir Together:
Combine:
Prepare:
Prepare bread, by carefully trimming off the top crust with a serrated knife. Just skim off the crust to make a flat surface; leaving as much bread as possible. Flip loaf over and repeat. Now cut the loaf horizontally into two 1/2" slices; preheat grill to low. Blend all ingredients for the pistou in a food processor to a paste consistency. Transfer to a bowl, cover, and chill until ready for use. Stir together mayonnaise and pistou for the Pesto Mayonnaise. Chill until you assemble panini. Combine the onion, olive oil, vinegar, and oregano for the Onion Relish, in a small bowl. Season to taste with salt and freshly ground black pepper. To prepare panini, first begin by placing a single layer of provolone on one half of the sliced bread. Next, spread all the Pesto Mayonnaise over the provolone. Proceed with a layer each of coppacola, salami, Onion Relish, arugula, and provolone. Top with the other slice of bread and brush with oil. To grill, spray grill grates with nonstick spray. Place panini on the grill, put a pie plate on top, then weigh it down with a few baking potatoes. The weight presses the sandwich making deep grill marks. Close the lid and grill panini for 3 mins. Use a spatula to flip the sandwich over and grill an additional 3 minutes, or until the cheese melts. Don't burn it!
Nutrition Info:
Per : cal; total fat ( sat); chol; sodium; carb; fiber; protein
Chicken Curry with Coconut Rice
Makes: 6
Total Time: 1 hour
Toast in Dry Saute Pan:
Grind Toasted Spices, then Add:
Simmer:
Blend for the Wet Masala:
Fry in 1/2 c. Vegetable Oil; Remove:
Add and Saute:
Add and Fry:
Stir in; Cover and Cook:
Off Heat, Stir into Curry:
Serve Curry with Coconut Rice.
Toast seeds in dry saute pan for Dry Masala over medium-high heat, stirring frequently to prevent burning. When they begin to smell fragrant and turn brown, they're done. Grind toasted spices in a clean coffee grinder to a powder. Remove from grinder and mix in the turmeric. All the ingredients for the curry can be prepared a few hours ahead of time, then refrigerated until you're ready to cook. Simmer ingredients for the Coconut Rice in a large saucepan. Bring to boil, stirring occasionally. Cover pan, reduce heat to low and simmer 18–20 minutes or until liquid is absorbed. Remove from heat and steam 5 more minutes. Fluff with a fork. Blend garlic, ginger, and fresh chilies until finely minced for wet masala. Fry spices in 1/2 cup hot oil over medium-high heat in large non-stick skillet. Tilt pan to pool the oil at the edge; add cinnamon and cloves. Fry until cloves pop and cinnamon opens, about 5 minutes. Add yellow onions to oil and saute over medium heat until lightly browned, 10 minutes. Add bay leaves and dried chiles; continue cooking. Fry onions 10 more minutes until golden, but not burnt. Add both masalas and fry until fragrant, 1–2 minutes. Stir to prevent sticking and burning. Stir in chicken, tomatoes, and salt; stir to coat. Reduce heat and cover; simmer 30–40 minutes. Off heat, stir spinach and dry masala into curry. Serve with Coconut Rice and warmed pita bread.
Nutrition Info:
Per 1 Cup Curry with 1/2 Cup Rice: 748 cal; 40g total fat ( sat); chol; 1136mg sodium; 61g carb; 0g fiber; 0g protein
Videos
Learn how to crimp pie crust edges with this short technique video from the test kitchen of Cuisine at Home magazine. Create a fluted design quickly and easily using just …
Learn how to shred cabbage without a mandoline—watch this short technique video from the test kitchen of Cuisine at Home magazine. We'll show you the best way to …
Sources
Cast Iron Skillets
Chefs Resource
www.chefsresource.com
1.866.765.2433
Le Creuset 10? Iron Skillet
Item #L2024-26
Lodge Manufacturing
www.lodgemfg.com
1.423.837.7181
Lodge Logic 12? Cast Iron Skillet
[Item
L10SK3](https://secure.lodgemfg.com/storefront/product1_new.asp?menu=logic&idProduct=3924)
Aebleskiver Pan
Lodge Manufacturing
www.lodgemfg.com
1.423.837.7181
Lodge Cast Iron Aebleskiver Pan
Item #P7A3
Table of Contents
Departments
4 TIPS AND TECHNIQUES
6 BRAISING BRISKET
An inexpensive cut of beef with million dollar looks. It's trendy restaurant food at home!
12 ARI WEINZWEIG, ZINGERMAN'S: SUNDAY DINNER ROAST CHICKEN
With a roast chicken built on a base of sliced bread, Ari has created the perfect Sunday dinner. But why wait until the end of the week?
16 WHITE CHEDDAR CHEESE SOUP
Creamy and satisfying, this soup is a breeze to create with a few easy tips.
18 STUFFED CHICKEN CLASSICS
Remember chicken Kiev and Cordon Bleu? These supper club classics are definitely back in style -- and simple to make in your own kitchen.
24 INDIAN CURRIES
With a make-ahead base, you can have spur-of-the-moment curry anytime you want! This dish is even better the next day.
28 ON THE SIDE: FOUR SALADS FOR FALL
30 BASIC CUISINE
What's mirepoix and beurre manié? How do you cut squash or hard-cook an egg? We'll show you.
32 BUTTERNUT TORTILLA SOUP
38 CAST IRON SKILLETS
Grandma always knew what was best -- she used cast iron and so should you.
46 Q&A
52 GREEN APPLE SHAKES
The familiar fall flavor of a caramel apple is reincarnated as a milk shake! The only thing missing is the wooden stick.
Feature
40 AEBLESKIVERS
The hardest part about making these little Danish pancake balls is how to pronounce them!
42 STUFFED BURGERS
Stuffed and topped, plain old cheeseburgers are turned into unique works of art.
48 SIMPLY THE BEST APPLE PIE
This pie is loaded with apples and tradition. Its keys? Great fruit and a homemade crust.