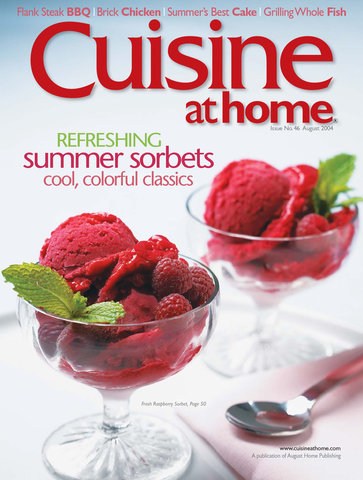 Subscribe Today!
Preview This Issue
Issue 46


August 2004
Online Extras
Recipes
BBQ Shrimp
Makes: 4
Total Time: 1 hour, 20 minutes
Saute in 2 T. Olive Oil:
Add:
Melt:
Whisk in and Bake:
Combine:
Saute:
Add; Bring to a Boil:
Add by Tablespoons:
Pour Sauce Over and Bake:
Garnish with:
Saute onion, celery, carrots, and garlic cloves in 2 T. olive oil for 5–8 min. for the Shrimp Stock. Add remaining ingredients and bring to a boil. Reduce heat; simmer for 20 min. Strain and cool. Preheat oven to 350°. Melt butter for the roux in an ovenproof saute pan over medium heat. Whisk in flour. Then place the pan on the middle rack of the oven. Cook roux for 30 minutes, whisking every 10 min. Combine ingredients for Creole Seasoning. Saute remaining butter Creole Seasoning and garlic. Add shrimp stock, honey, Worchestershire sauce, tomato paste, and Old Bay seasoing and bring to a boil over medium-high heat. Add prepared roux by tablespoons and whisk. You'll probably need about 3 T. of roux. The sauce should be the consistency of maple syrup. Pour sauce over single-layered shrimp in a shallow baking dish and bake 6–8 min.or until just firm. Garnish with green onions and serve.
Nutrition Info:
Per : 660 cal; 49g total fat ( sat); chol; 1579mg sodium; 37g carb; 0g fiber; 0g protein
Rustic Toast
Makes: 8
Total Time:
Brush with Butter; Grill:
Sprinkle with:
Preheat grill to medium. Brush both sides of sliced bread with butter. Grill for 2 minutes on each side or until lightly toasted and marked by the grill.
Sprinkle bread with coarse salt; serve immediately.
Nutrition Info:
Per per slice: 107 cal; 5g total fat ( sat); chol; 537mg sodium; 15g carb; 1g fiber; protein
Sea Bass en Papillote
Makes: 4
Total Time: 55
Brush Cut Parchment with:
Divide and Place among Packets:
Top with:
Dijon Mixture: Blend and Brush Fish:
Divide among Packets:
Prepreparation: Slice leeks and shallots to form circles. Separate them into rings. Rinse leeks in a bowl of ice water to remove any dirt. Repeat if necessary. Use shiitake mushrooms with small caps. The flavorful stems are woody and inedible. Cut them off and save (freeze) them for stocks. Blanch tomatoes to make them easy to peel. Cut an "X" on the bases of tomatoes, then place them in boiling water for 1–2 minutes. Remove tomatoes from boiling water, and place in ice water to stop any cooking. The peels come right off. Seed and chop tomatoes. Lemon slices look neater if you cut a lot of shallow, equidistant grooves with a canelle. Cut from stem to base. Then slice into rounds.
Cut a 12" x 16" piece of paper, and fold it in half like a book. Mark the largest half of heart you can, starting from the folded edge. Cut out the heart half. Use it as a template to cut out three more hearts from equal-sized pieces of parchment paper. Brush a little dab of butter under paper to keep it flat. Brush unfolded hearts entirely. This helps seal in steam and adds a little flavor. Construct packets one at a time.
Divide and arrange a bed of 1/2 cup sliced leeks on right side of paper. Top with a sprig of fresh thyme on top of leeks. Lightly salt the fish fillet and then put it on the bed of leeks. Dijon-wine mixture; blend ingredients and brush fish with mixture. Divide remaining ingredients among packets. Arrange 2 T. shallots and 1/4 cup tomatoes on top of fillet. Place 3 mushroom caps along the side of fillet. Set a lemon slice on top.
Fold left side of paper over fish and match edges. Begin folding at the top of the heart. Fold over 1/2" of edges and pleat about every inch. Continue folding and pleating until you reach the point of the heart. Make sure all edges continually match and folds are tight. Now, repeat the folding and pleating to make a double fold. Twist the point tightly to seal. Use your fingernail to crease the edges.
Place packets on large baking sheets. Bake packets at 450°. If you sealed them well, the packets will puff up. Serve packets immediately or they'll deflate. Let each person tear open their packet. Part of the experience is that first burst of aroma.
Nutrition Info:
Per per packet: 287 cal; 10g total fat ( sat); chol; 551mg sodium; 0g carb; 0g fiber; 0g protein
Videos
Learn how to spatchcock a chicken with this short technique video from the test kitchen of Cuisine at Home magazine. We'll show you how to remove the keel bone …
Learn how to zest a lemon (or lime, or orange!) with this short technique video from the test kitchen of Cuisine at Home magazine. Use a zester or a vegetable …
Learn how to slice flank steak correctly with this short technique video from the test kitchen of Cuisine at Home magazine. Proper cutting will ensure your grilled steak is tender …
Sources
Purchasing Whole Fish
iSeafood.com
www.iSeafood.com
1.877.266.8041
Mandolines
Cooking.com
www.cooking.com
1.800.663.8810
Zyliss
Item #194858
Fantes.com
www.fantes.com
1.800.443.2683
GSD
Item #1817
Pastryitems.com
www.pastryitems.com
1.443.417.8854
Matfer Professional 1000
[Item #109-215040
Charcoal
The Naked Whiz
Everything you'd ever want to know about lump charcoal! This is an impressively informative website that includes reviews and rankings of most brands of lump charcoal.
Wicked Good Charcoal
Among other things, they sell B&B and Ozark brand lump charcoal.
Nature's Own
www.char-wood.com
1.800.729.5800
Offers chunk charwood, fresh-cut woods, 100% natural fire starters, and other grilling products.
Kamado Charcoal
www.kamado.com/New_Kamado_Charcoal.htm
1.888.526.2367
Sells Extruded Coconut Charcoal.
WW Wood, Inc.
www.woodinc.com
1.830.569.2501
"The leading producer of cooking wood in the United States."
Table of Contents
Departments
4 TIPS AND TECHNIQUES
6 GRILLING FLANK STEAK
Beefy flavored and a snap to prepare, flank steak is some of this season's best eating.
12 STEVEN RAICHLEN: SECRETS TO GRILLING WHOLE FISH
The Grill Meister returns with a foolproof way to cook whole fish on the grill. A simple tomato sauce is the perfect accompaniment.
20 BRINED & BRICKED CHICKEN
Moist and juicy grilled chicken? No, it's not a contradiction in terms -- it's all in the brining and unusual grilling technique.
26 EN PAPILLOTE: CHICKEN & VEGETABLES
An elegant French technique is reinvented for the grill. Cooking in packets is full of benefits -- classy, simple, and great tasting.
30 BASIC CUISINE
Learn how to measure flour, why resting meat is important, what to do with simple syrup, and how to determine your grill's temperature.
32 MANDOLINES
It slices, it juliennes! Find out what makes the mandoline a kitchen tool worth owning.
34 CHARCOAL
36 SHRIMP SEVICHE
The kitchen is hot, you're too tired to cook. Don't worry -- these three recipes can help.
46 Q&A
49 SEDUCTIVE SORBETS
There's nothing wimpy about these sorbets -- except maybe how easy they are to make.
52 WHITE SANGRIA
This simple, fruity thirst-quencher makes hot summer evenings just a little more bearable.
Feature
16 GARDEN ON A STICK
Slightly spicy and sweet, these vegetable skewers are a great way to use up all those zucchini!
18 PASTA WITH SPINACH PESTO
Pasta doesn't get much fresher and lighter-tasting than this. Make it before summer disappears.
42 SUMMER'S BEST CAKE
Don't know what tres leches cake is? That's okay. All you really need to know is that it's one of the best cakes around. So make it. You won't be sorry.