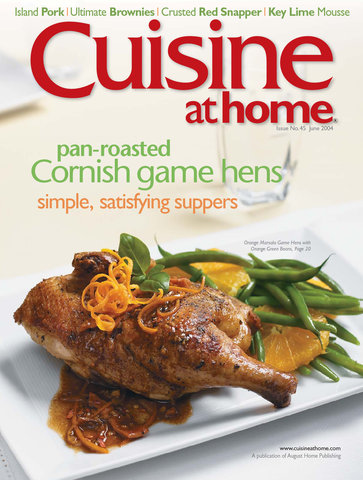 Subscribe Today!
Preview This Issue
Issue 45


June 2004
Online Extras
Recipes
I think brownies should be chewy and chocolatey. Here they are.
Cajun Spice Mix
Makes:
Total Time: 5
Nutrition Info:
Per : cal; total fat ( sat); chol; sodium; carb; fiber; protein
Sources
Firehouse Food
Jessica's Biscuit
Firehouse Food: Cooking with San Francisco's Firefighters
Item #04064
Hot Dogs
Allen Brothers
Steak Dogs
Item #SD-801
Boars's Head Beef Frankfurters
Available at select supermarkets and delicatessens in most states.
To find a retailer near you: 1.800.352.6277.
Nathan's Famous Beef Frankfurters
Available in grocery stores and club stores throughout the country, but predominantly on the East coast. Also available online.
Thumann's Tender Tasty Grilling Dogs
Available at grocery stores in most metro areas, predominantly in the East, Southwest, and West Coast. At A & P, Kings, Pathmark, Shaws, Shoprite, selected Albertsons, and more.
Vienna Beef Frankfurters
Wimmer's Wieners
Also available at grocery stores in Nebraska, Iowa, Kansas, South Dakota, Eastern Colorado, and parts of Missouri, Minnesota, and Illinois.

To find a grocery store near you: 1.800.358.0761.
PBS Home Video
A Hot Dog Program
Item #HDOG401
Key Lime Juice
The Baker's Catalogue
Floribbean Key Lime Juice
Item #1089, 1.25 lbs.
Kermit's Key West Key Lime Shoppe
Kermit's Key West Key Lime Juice
Item #197, 16 oz.
Table of Contents
Departments
4 TIPS AND TECHNIQUES
6 ISLAND PORK TENDERLOIN
A little heat, a little fruit, and a little time. Try this tasty tenderloin with some island flare.
12 FIREHOUSE FOOD: COOKING WITH SAN FRANCISCO'S FIREFIGHTERS
As if our firefighters don't do enough for us already. Now they share two of their favorite salad recipes -- just in time for summer.
18 PAN-ROASTED CORNISH GAME HENS
They're just the right size and convenient, but there aren't any good recipes. Here's your answer.
24 SUPER SANDWICHES
The greatest convenience food of all time gets a facelift. Here are four new ways to love lunch.
28 THE ULTIMATE CHOCOLATE BROWNIE
Easy, one-bowl brownies to make you swoon. And these two variations will knock you over!
32 BASIC CUISINE
Ever wonder how to seed chiles, peel tomatoes, julienne vegetables, or what simmering is? Here's the inside scoop.
34 HOT DOGS
There's no such thing as a bad hot dog, but here are our winners for the "Best in Show."
36 STEAK GRILLADES
Weeknights don't have to be bland. These three favorites provide plenty of flavor, prepared with common ingredients found right in your kitchen.
42 Q&A
44 BASIC COOKING HERBS
52 MOJITOS
Latin flavors are hotter than ever, and so are mojitos. These refreshing rum and mint drinks will cool down even the warmest summer day.
Feature
16 SENSATIONAL SCONES
Say goodbye to hockey puck-like scones! Your search for a great scone ends right here.
48 KEY LIME MOUSSE IN GRAHAM TUILES
A twist on everybody's favorite -- key lime pie. This light, tangy mousse is served in its own edible bowl!