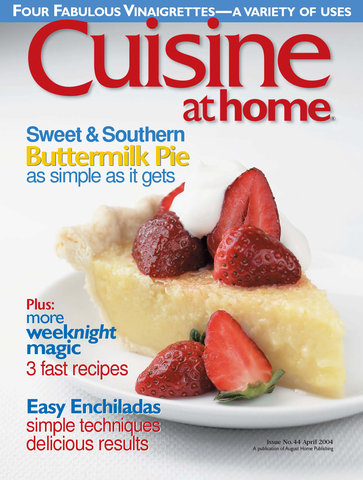 Subscribe Today!
Preview This Issue
Issue 44


April 2004
Online Extras
Recipes
Paella
Makes: 8
Total Time: 90
Toast:
Add; Simmer:
Add and Steam:
Saute in 2 T. Olive Oil; Remove:
Saute:
Stir in:
Add:
Top with:
Serve with:
Preheat oven to 400°. Toast saffron in a large saute pan over medium heat until slightly darkened. Add broth, wine, bay leaves, and shrimp shells; boil 3 minutes. Add mussels to boiling broth; cover and steam until mussels open, 5–8 minutes. Transfer mussels to a bowl, discarding those that do not open. Strain broth and keep warm over low heat. Saute chicken in oil in a large nonstick saute pan over medium-high heat. Cook until brown on both sides, about 8 minutes (do not cook through); remove. Add kielbasa; saute until brown, 3 minutes, then remove. Add shrimp and cook until just cooked through, 4 minutes; remove. Saute onion and bell pepper, stirring occasionally, until they brown around the edges, about 8 minutes. Stir in rice to coat with oil. Cook, stirring constantly, for 2–3 minutes. Add tomato and garlic; cook until garlic is fragrant, 30 seconds. Stir in warm strained broth, then add the browned chicken and sausage. Cook, uncovered, over medium to medium-low heat for 15 minutes; the liquid should be at a low boil. Don't stir the rice anymore—it may turn starchy. Transfer pan to the oven and cook, uncovered, another 15 minutes, or until rice is tender but not mushy. Remove from the oven and check for the socarrat—if it hasn't formed, place the pan over a low burner. Top paella with reserved seafood; sprinkle with the peas. Cover pan for 5 minutes with a lid or foil to warm seafood through. Serve with lemon wedges on the side to squeeze over paella.
Nutrition Info:
Per : 548 cal; 18g total fat ( sat); chol; 587mg sodium; 43g carb; 2g fiber; 0g protein
Sources
Clams
Ipswich Fish Market
6-lb. of Count Littleneck, Littleneck, or Cherrystone Clams
Lamb
Allen Brothers
Domestic, frenched
#99645, 2 racks, 24 oz. each
#99649, 4 racks, 24 oz. each

Australian, frenched
#99655, 2 racks, 24 oz. each
#99657, 4 racks, 24 oz. each
Jamison Farm
Niman Ranch
Lamb Rack chop ready
Lamb Rack, frenched
Mackenzie Limited
Summerfield Lamb
Single or double rack
Hand Blenders
Cooking.com
Braun Professional MR5550MBC-HC
Item #197301
Fante's Kitchen Wares Shop
KitchenAid KHB100
Black, Item #6880
White, Item #6879
Target
Oster 2611
Item #522628
Table of Contents
Departments
4 TIPS AND TECHNIQUES
6 ENCHILADAS
Simple and good... enchiladas are everybody's favorite. But wait, there are techniques to know.
12 CLASSIC PAELLA
A plain frying pan, canned broth, and simple ingredients make this paella easy without diminishing the flavor from the original.
16 DAVID ROSENGARTEN -- LINGUINE WITH CLAM SAUCE
David Rosengarten brings back classics in his newest book about foods we eat in America. He shares his favorite with us, Linguine with Clams.
20 THE PERFECT RACK OF LAMB
Rack of lamb isn't just for the restaurant menus anymore. This simple cooking technique will have you eating lamb at home all the time!
26 SIMPLE SPRING SIDES
Side dishes are always hard to come by. Try these four to prop up any entree.
28 BASIC CUISINE
Crimping pie crust, using saffron, frenching lamb racks, and grating nutmeg -- four basics you'll be glad to know a little more about.
30 CHICKEN CACCIATORE SOUP
A hearty soup that the whole family will love to eat. There's a surprise at the bottom of the bowl!
32 HAND BLENDERS
Today, hand blenders are a useful kitchen tool. We tested some and here are our top 6.
34 OILS YOU NEED IN YOUR KITCHEN
40 SUN-DRIED TOMATO CRUSTED CHICKEN
Recipes good enough for weekend company but made for weeknight schedules.
46 Q&A
52 BANANA ENCHILADA
Here's a fun twist to an old favorite -- a sweet enchilada. Caramel, bananas, and strawberries combine to make this unusually good dessert.
Feature
36 VERSATILE VINAIGRETTES
Vinaigrettes can be used in a variety of ways. Check out these four unique recipes.
48 BUTTERMILK PIES
Oh so simple, but oh my, what a pie! Add a splash of fruit and you have a blue-ribbon award winner.