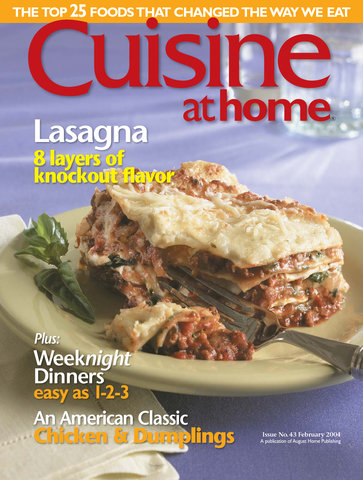 Subscribe Today!
Preview This Issue
Issue 43


February 2004
Online Extras
Recipes
Bolognese [boh-loh-N'YEH-zeh] is prepared like a stew. Ingredients are sauteed and then simmered in liquid. Original recipes call for four hours of simmering because the meat (usually skirt steak) needed time to tenderize. The ground meat in this recipe doesn't need time to tenderize. But it still needs …
Linguini Alla Puttanesca
Makes: 6
Total Time:
Cook:
Saute in 2 T. Olive Oil:
Add and Simmer:
Add:
Top Each Serving with:
Cook linguini; bring a large pot of salted water to a boil over high heat. Saute; heat a large saute pan over medium heat. Add the olive oil, garlic, anchovy paste, and red pepper flakes. Stir, cooking for 30 seconds—it will smell strong because of the anchovies. Add the tomatoes, sun-dried tomatoes, brown sugar, and vinegar; stir to combine. Simmer sauce until slightly reduced, 10–15 minutes. While sauce simmers, prepare olives and herbs; pour capers into a small dish—it's easier to measure them that way.Meanwhile, add linguini to the boiling water; stir often to force the strands to the bottom of the pot and prevent them from sticking. Cook pasta until al dente (refer to package for times). Before draining, remove 1/4 cup cooking liquid to thin the sauce if needed. Add the olives, herbs, capers, and salt, plus some pasta water to the sauce if it seems thick. Transfer the sauce to a large, shallow bowl and top with the drained pasta. Toss until pasta is evenly coated with sauce. Top pasta with chunks of canned tuna. Serve Puttanesca warm or at room temperature.
Nutrition Info:
Per None: 401 cal; 8g total fat ( sat); chol; 672mg sodium; 69g carb; 0g fiber; 0g protein
Buttermilk Biscuits
Makes: 16
Total Time: 35
Combine:
Cut in:
Stir in:
Sift over Work Surface and Dough:
Cut Biscuits with a 2 1/2
Brush with:
Heat oven to 475°. Spray two 8" round pans with cooking spray. Combine flours, sugar, salt, baking powder, and soda. Cut the shortening into the flour with a pastry blender mixture until shortening is no larger than the size of a big pea. Stir in the buttermilk completely with a wooden spoon. Let stand 2–3 minutes. The dough will be very wet. Sift 1/4 cup all-purpose flour onto the work surface. "Turn out" the dough onto the floured work surface. Sift remaining flour over dough. Flour hands. Turn and fold dough over several times in flour and gently pat to 3/4" thick. Cut biscuits: Using a floured 2 1/2" cutter, cut dough into rounds — don't twist! With a spatula, place cut biscuits into pans (6 per pan). Gently reroll scraps. Don't overwork the dough or add additional flour. Brush tops of biscuits with melted butter. Bake 15 minutes, or until tops are golden. Serve right away. I guarantee, these biscuits will make you go "white-eyed!"
Nutrition Info:
Per None: 171 cal; 6g total fat ( sat); chol; 411mg sodium; 0g carb; 0g fiber; 0g protein
Sources
Coffee Makers
Automatic Drip Method
Cooking.com
Bunn Home Brewer Coffee Maker, 10-Cup
Black, [Item
178688](http://www.cooking.com/products/shprodde.asp?SKU=178688)
White, [Item
178695](http://www.cooking.com/products/shprodde.asp?SKU=178695)
Cold Brew Method
Fante's Kitchen Wares Shop
Toddy Coffeemaker
Item #12725
French Press Method
Bodum
Bodum Chambord
12-Cup, 48 oz.
[Item
1932-16US4](http://www.bodumusa.com/shop/line.asp?MD=1&GID=3&LID=10&HID=1932)
Manual Drip Method
Empire Coffee and Tea Company
Melitta with 10-Cup Carafe
Natural Brown Melitta Cone Filters #6 (box of 40)
Mushrooms
Marche Aux Delices
Mushrooms and More
Q&A Sources
Cake and Pastry Flour
King Arthur Flour
Queen Guinevere Cake Flour
3 lbs., Item #3330

Round Table Pastry Flour -- Unbleached
3 lbs., Item #3331
Butter Bell
The Original Butter Bell Crock
CHEFS Catalog
Red Pepper and Red Pepper Flakes
Penzey's
The Spice House
Capers
Zingerman's
Salt-packed capers
140g, Item #P-CAP
ChefShop.com
Offers 7 varieties of capers, including those from Salina
Table of Contents
Departments
4 TIPS AND TECHNIQUES
6 SIMPLE SAUCE STIR-FRY
Stir-fry without the hassle -- most of the preparation is done right in your blender.
12 CHICKEN & DUMPLINGS
Simple ingredients and basic techniques produce flavors that put this dish at the top of the list of American Classics.
18 CARLOS GUÍA -- BRUNCH AT COMMANDER'S PALACE
Good brunch recipes are hard to come by. Here are two simple classics from the experts who wrote the book on brunch.
22 THE PERFECT CUP OF COFFEE
The hunt for the perfect cup ends here. We did the jittering -- you do the reading!
24 8-LAYER LASAGNA
True Lasagna Bolognese takes hours to make. But fewer ingredients and less preparation time don't diminish this version's flavor.
28 BASIC CUISINE
Blanching vegetables, pulping ginger, rehydrating mushrooms, and supreming citrus -- here are details on the techniques.
36 MUSHROOMS
38 MUSHROOMS
From sandwiches to main courses, four flavorful recipes made with mushrooms.
40 1-2-3 WEEKNIGHT
Recipes good enough for weekend company but made for weeknight schedules -- lamb chops and jambalaya-stuffed peppers.
44 Q&A
52 BLACK FOREST PARFAITS
Got leftover angel food cake? This great-looking, light-tasting (but rich!) parfait is the perfect way to end a meal.
Feature
30 THE TOP 25 FOODS THAT INFLUENCED THE WAY WE EAT
America's culinary icons -- the foods that shaped our nation's eating habits. Making history at the table, one bite at a time.
46 HEAVENLY ANGEL FOOD CAKE
One bite of this cake and you'll come to understand the meaning behind the name. It truly is other-worldly.
48 ROCKY ROAD CAKE
Take a decadent path with this angel food cake filled with chocolate-rum pudding and almonds. There will be no regrets!