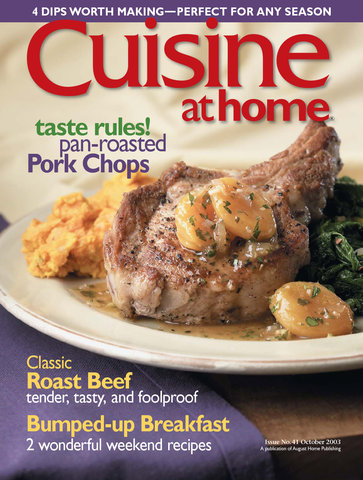 Subscribe Today!
Preview This Issue
Issue 41


October 2003
Online Extras
Recipes
Sauteed Greens
Makes: 4
Total Time: 10 Minutes
Prepare:
Saute Greens in:
Add:
Prepare greens as shown in the picture below. Saute greens with olive oil in large saute pan over high heat, 1–2 minutes. Add garlic and saute greens another 1–2 minutes, tossing constantly. Add chicken broth (or water), salt, and pepper, and cook uncovered, 3–4 more minutes until tender but not mushy—they should still be bright green! Serve immediately. (Shown here with Tomato-Orange Relish).
Nutrition Info:
Per Per 1/2 cup: 54 cal; 4g total fat ( sat); chol; 244mg sodium; 4g carb; 3g fiber; protein
Sources
Hand Mixers
Cooking.com
www.cooking.com
1.800.663.8810
KitchenAid 7-Speed
Black, [Item
115100](http://www.cooking.com/products/shprodde.asp?SKU=115100)
White, [Item
115093](http://www.cooking.com/products/shprodde.asp?SKU=115093)
Red, [Item
142246](http://www.cooking.com/products/shprodde.asp?SKU=142246)
KitchenAid 7-Speed
White Professional, [Item
115086](http://www.cooking.com/products/shprodde.asp?SKU=115086)
Table of Contents
Departments
4 TIPS AND TECHNIQUES
6 CLASSIC ROAST BEEF
Old fashioned roast beef never goes out of style! The right cut and cooking technique make dinner a snap.
16 PAN-ROASTING THE PERFECT CHOP
Pork chops can be hard to cook -- until now. After this technique, you may never cook them any other way.
22 BASIC CUISINE
All you've ever wanted to know about beating egg whites, roasting peppers, zesting, and folding but were afraid to ask.
24 HAND MIXERS
There's a lot more to hand mixers than what meets the eye. Read on to see which ones made the cut.
26 LYNNE ROSSETTO KASPER -- THE BASICS OF RISOTTO
Risotto -- simplicity in a bowl. Understanding the technique is the first step to perfection.
29 RISOTTO CONFETTI
With a classic risotto recipe as framework, added salami, green peas, and tomatoes make a simple and satisfying meal.
30 CHILE PEPPER CHILIES
It's fall and that means it's chili season! These recipes will have you warmed through in no time.
34 PURE MAPLE SYRUP
Even though the sap runs in early spring, maple syrup is the ideal fall food. Here's the story behind it.
36 EASY DIPS
With football starting up, it's good to have a few dips on hand. Before the next kickoff, try one of these.
42 Q&A
44 SEAFOOD RISOTTO
Fresh scallops, shrimp, and calamari make an elegant, easy dinner.
Feature
10 ROAST BEEF ENCORES
Roast beef usually means leftovers. here are two ways to make the second round just as good as the first!
12 CORNMEAL GRIDDLE CAKES
For days when you want something more than toast and coffee, these griddle cakes raise the bar.
14 CINNAMON TOAST BREAD PUDDING
This bread pudding makes a /very/ decadent breakfast. What a great way to jump start your day!
18 AUTUMN DINNER
A perfectly cooked pork chop tastes best alongside perfect accompaniments. Apricot sauce and spoon bread are just the ticket.
38 CARAMEL APPLE CAKE
Full of fall flavors, this cake tastes great right now. But I'll bet you'll be making it long after the season's over.