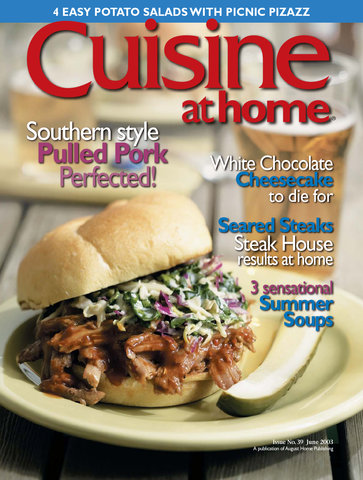 Subscribe Today!
Preview This Issue
Issue 39


June 2003
Online Extras
Recipes
Barbeque Sauce - Vinegar Sauce
Makes: 6
Total Time: 30 Minutes
Cook over Medium-low Heat:
Nutrition Info:
Per : cal; total fat ( sat); chol; sodium; carb; fiber; protein
Roasted-Mashed Buttermilk Potatoes
Makes: 6
Total Time: 50
Prepare and Roast:
Mash and Add:
Prepare potatoes for roasting by peeling and cutting into large chunks. Toss with oil. Place in 425° oven on lowest rack for best browning. Roast for 40–45 minutes, turning at least once. Mash potatoes in large bowl, leaving them slightly chunky. Stir in buttermilk, butter, and chives. Season with salt and pepper.
Nutrition Info:
Per : 318 cal; 15g total fat ( sat); chol; 582mg sodium; 39g carb; 0g fiber; 0g protein
Barbeque Sauce - Red Sauce
Makes: 6
Total Time: 30 Minutes
Cook over Medium-low Heat:
Nutrition Info:
Per : cal; total fat ( sat); chol; sodium; carb; fiber; protein
Table of Contents
Departments
4 TIPS AND TECHNIQUES
6 STEAK HOUSE SEARING
Wouldn't it be great if you could get a pricey steak house steak right in your home? Well, now you can.
12 POTATO SALADS
It's time for potato salads! For the next picnic, skip the deli and try one of these.
14 SAVORY SUMMER SOUPS
Spicy-sweet Mulligatawny Soup is a perfect light meal for the summer.
18 BARBECUED PULLED PORK
Slow cooked to perfection. Try this no-fail technique to great-tasting pork.
24 BBQ SAUCES
Regional sauces win hands down over national brands. See which ones made it to the top in our taste test.
26 BASIC CUISINE
Do you know the best way to make crême fraîche? Or how about melting chocolate? Here's some basic info we can all use.
28 GARLIC
Garlic is a powerful aromatic, but doesn't have to be. Find its softer side for those delicate recipes.
33 RICK BAYLESS
/The/ Mexican cooking authority, Rick Bayless, shares three zesty authentic tostada recipes.
42 Q&A
44 TUXEDO STRAWBERRIES
Gorgeous and simple -- strawberries dressed up, ready for a perfect dessert.
Feature
8 ON THE SIDE
Complete your steak house dinner with a classic sauce and side dish -- simple to do and better than ever.
10 STEAK AU POIVRE WITH BRANDY CREAM SAUCE
Juicy strip steaks encrusted with peppercorns and doused with cream sauce -- indulge! It's worth it.
21 ROOT BEER BBQ SAUCE
Sauce with a twist. The sharp taste of vinegar smoothed out with an easy-to-make root beer syrup.
22 PULLED PORK SANDWICH
One taste of this sandwich and it'll be an instant family favorite -- even with slaw!
30 40-CLOVE GARLIC CHICKEN
An easy to prepare dish that doesn't carry the "stinky" garlic stigma.
32 ROASTED GARLIC VINAIGRETTE SALAD
Love garlic, hate the aftereffects? Here's a mellow alternative you should try.
38 WHITE CHOCOLATE CHEESECAKE
This isn't run-of-the-mill cheesecake. It's easy to make, beautiful to look at, and so good, it's sinful.