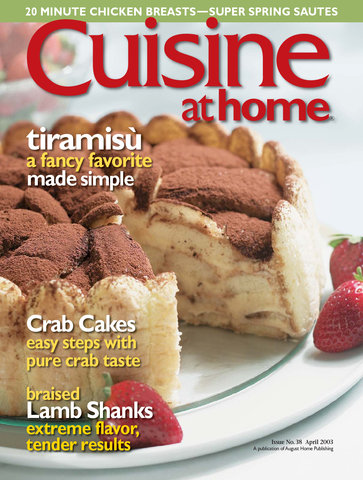 Subscribe Today!
Preview This Issue
Issue 38


April 2003
Online Extras
Recipes
Gremolata Mashed Potatoes
Makes:
Total Time:
Boil; Drain, Reserving Cooking Water:
Heat; Mash Potatoes with:
Fold in:
Boil potatoes in cold water to cover with garlic and salt in a large heavy saucepan over high heat. Cook until easily pierced with a knife, 10–15 min. Drain potatoes and reserve the cooking water for mashing. Heat cream, butter, and seasonings in a small saucepan over medium-low heat while potatoes cook. Place drained potatoes in a large bowl and add the warm cream mixture. Beat with an electric mixer until smooth, adding reserved potato cooking water as necessary until desired consistency is reached. Fold parsley and lemon zest into mashed potatoes and serve.
Nutrition Info:
Per None: cal; total fat ( sat); chol; sodium; carb; fiber; protein
Lamb Shanks with Tomato-Herb Sauce
Makes: 4
Total Time:
Sear in 3 T. Olive Oil; Remove:
Saute in 2 T. Olive Oil:
Add; Braise Shanks in:
Combine and Whisk in:
Finish with:
Sear trimmed shanks in oil in a large stockpot or Dutch oven over high heat. Sear them two at a time, otherwise the pan will be too crowded to brown them properly. Once browned (about 5 min. per side), transfer shanks to a platter. Pour off any residual fat in the pan and return the pan to the burner. Saute vegetables and herbs in 2 T. oil over medium-high heat, scraping up any brown bits in the pan. Cook until vegetables soften, about 8 minutes. Add broth, wine, tomatoes, and paste; bring to a simmer. Return shanks to the pan (it's okay if they stack on top of each other), cover, and bring liquid to a boil. Reduce heat to maintain a low, gentle simmer, adjusting the heat as needed. Cook shanks 1 hour, checking periodically to make sure the liquid is gently bubbling. After 1 hour, turn and rearrange the shanks, then cover and simmer another hour. When shanks have braised for two hours, transfer them to a platter and skim off any visible fat floating on top of the braising liquid. Increase heat to high and bring liquid to a boil. Combine vinegar and flour in a small dish, crushing lumps with your fingers. Whisk into boiling liquid to thicken slightly; boil for one minute to eliminate the starchy taste of the flour. Finish the sauce with minced herbs and seasonings to taste. Add shanks back to the sauce and simmer 10–15 minutes to warm through.
Nutrition Info:
Per None: 693 cal; 39g total fat ( sat); chol; 404mg sodium; 24g carb; 0g fiber; 0g protein
Table of Contents
Departments
4 TIPS & TECHNIQUES
6 COOKING UP CRAB CAKES
Can't find a good crab cake? With minimum work, the best can come out of your kitchen.
12 VINEGAR
Cider, rice, wine, sherry -- do you know which vinegar to use? You will once you read this article.
18 BASIC CUISINE
Crack an egg? Make a roux? Maybe there's more to it than you know. It's time to get back to the basics.
20 VELVET CREAM SOUPS
Two smooth and delicate soups bursting with spring flavor that can easily fill dinner-sized appetites.
24 HOWARD HELMER -- MAKING OMELETS
This Guiness Book record holder shows you how to make the perfect omelet. It's fast, easy, and oh so good!
28 BRAISING LAMB SHANKS
Don't skip this recipe. These shanks are full of flavor and hearty enough to be a hit with the whole family.
34 CHICKEN BREASTS
Four chicken sautes that can be made in 30 minutes or less. Ideal for any weeknight meal -- like tonight!
36 WHICH WHISK?
Too many whisks to pick? We'll show you the right whisk for the job.
42 QUESTIONS & ANSWERS
44 INDIVIDUAL TIRAMISÙ WITH RASPBERRIES
Sized down and all dressed up for any occasion.
Feature
9 SHRIMP CAKE CLUB SANDWICH
What a lunch! Shrimp cakes dressed up in a fancy club sandwich.
10 ASIAN SALAD WITH SALMON CAKES
These aren't Mom's salmon patties. Fresh salmon cakes with an Asian flair -- great for company or family.
14 CHOPPED SALADS: FAJITA SALAD
More refined and better tasting, this fajita salad puts the old taco salad to shame.
16 CHOPPED SALADS: GREEK SALAD
Overdressed, underwhelming Greek salads are history. This is the Greek salad you've been waiting for.
31 SIDE DISHES FOR LAMB SHANKS
Nothing about these two lamb shanks is difficult -- except deciding which one to make!
38 TIRAMISÙ
When was the last time you had /really/ good tiramisù? Can't remember? This recipe just may jog your memory.