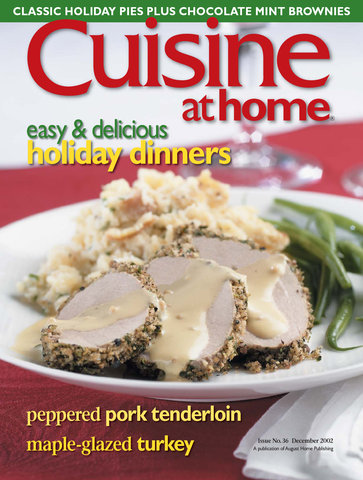 Subscribe Today!
Preview This Issue
Issue 36


December 2002
Online Extras
Recipes
Fried pita triangles
Makes: 24 triangles
Total Time: 15 minutes
Cut into Triangles:
Heat; Fry Triangles in:
Sprinkle with:
Cut each pita bread into six triangles. Do not split the bread in half first.
Heat about 1/2" oil in a large skillet over medium-high heat until it begins to shimmer. When hot, add triangles and fry on both sides until golden and crisp, about 2 minutes total. Transfer to paper towel-lined plate to drain.
Sprinkle with salt before serving. Serve triangles warm
Nutrition Info:
Per : cal; total fat ( sat); chol; sodium; carb; fiber; protein
Cranberry Sauce
Makes: 10
Total Time: 30
Simmer until Sugar Dissolves:
Add and Simmer until Thick:
Over high heat, boil juices and water with sugar for 5 minutes. Simmer and stir constantly until sugar dissolves. Add berries, salt and zest. Reduce heat to medium and simmer. Foam will form as berries pop. Cook until it reaches a thickness and texture you like. Sauce will thicken as it cools. Off heat, stir in the orange and lemon zests.
Nutrition Info:
Per : 99 cal; total fat ( sat); chol; 30mg sodium; 25g carb; 0g fiber; 0g protein
Table of Contents
Departments
4 TIPS & TECHNIQUES
6 ROASTING A TURKEY BREAST
This year, keep it simple -- roast a turkey breast. A quick brine makes it flavorful and moist.
12 PORK TENDERLOIN DINNER
Quick Meals don't always mean burgers. This one is fit for family weeknights or company weekends.
16 WORKING WITH PHYLLO
This paper-thin pastry dough holds a wealth of possibilities. Here are the easy steps to success.
22 BLUE CHEESE
Bold and rich, blue cheeses reign supreme. Read about some of the world's finest.
26 STEAK KNIVES
Steak knives make a great gift. Read this article before heading to the stores.
28 MAIDA HEATTER -- CANDY BARS FOR THE HOLIDAYS
Maida Heatter is one of the best bakers I know. Her bars are the perfect "sugar plum" for this time of year.
42 QUESTIONS & ANSWERS
44 GRILLED TURKEY SANDWICH WITH BLUE CHEESE MAYONNAISE
Bring on the leftovers -- this sandwich beats all.
Feature
9 CREAMY GRAVY
No more gravy anxiety! Do ahead sauce that works.
10 COUNTRY HAM DRESSING
Cornbread dressing that's as moist as it is flavorful.
18 PHYLLO APPETIZERS
Make-and-freeze appetizers are just the ticket to an enjoyable holiday party.
20 PHYLLO-WRAPPED SALMON
Salmon and spinach in a wrap of phyllo -- restaurant looks from your kitchen!
23 BLUE CHEESE SALAD
The Extreme Salad! So much flavor and texture you can't stop eating it.
24 BLUE CHEESE HORS D'OEUVRE
Tiny puffs warm from the oven are sure to welcome this season's guests.
25 BLUE CHEESE APPETIZER
Go ahead, indulge! This dip is made with lowfat mayonnaise and yogurt.
32 ENTREE SOUPS
Favorite entrees in a bowl! These soups have all the taste you'd expect without the heaviness of a meal.
36 TIME FOR PIE
These updated classic desserts are different enough to be special, yet familiar too. Make one (or two!) of them part of your holiday feast.